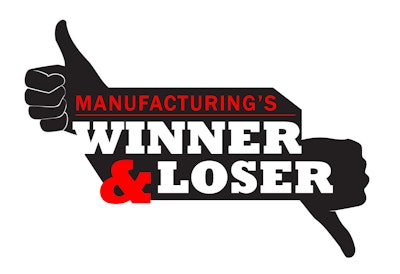 This week's winner set two new sales records; this week's loser announced an additional 1,000 layoffs.
Winner
Ford sold about 1.1 million vehicles in China for 2015, up 3 percent from the year before, setting record sales. In addition, the company sold 124,768 vehicles in December — up 27 percent from the same period the year before, setting a new monthly sales record.
Changan Ford Automobile, Ford Motor Co.'s "passenger car joint venture," also broke two records. Its annual sales, 836,425 vehicles, is up 7 percent from the year before. Monthly sales for December jumped 49 percent from the same prior-year period with a total of 96,960 vehicles. The company attributed Changan's sales jump to consumer demand for the new Mondeo.
Ford was reported as the best-selling individual brand for its sixth consecutive year Tuesday following the release of U.S. auto sales. The company's stock rose to $12.85, up by 15 cents, before the market open.
Loser
Following another quarterly loss, Monsanto announced this week plans for an additional 1,000 layoffs. This follows news in October of a restructuring plan that would cut 2,600 jobs.
The strong dollar and low commodity prices hurt company sales, which reported a $253 million loss this week. Company shares dropped to $96.15 Wednesday morning, down 59 cents. Shares fell approximately 19 percent last year.
The restructuring plan, which aims to save $500 million annually by 2018, will cut 16 percent of the company's global workforce in that time.