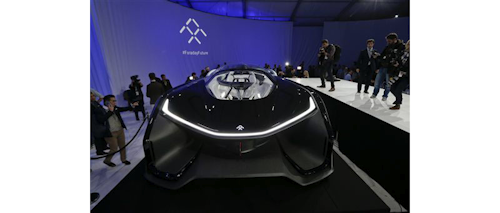 Faraday Future's long-awaited mystery electric concept car was unveiled Monday evening at the annual Consumer Electronics Show in Las Vegas.
The sleek concept racecar reminds many of something Batman might drive, as has been pointed out repeatedly:
While some were impressed with its attractive appearance and high-tech features, others seemed disappointed after all the hype and criticized the concept as being unable to compete with a Tesla.
Richard Kim, the company's head of global design, called the concept car "an extreme tablet on wheels," discussing features such as the steering wheel smartphone dock, the ability to project images on the road and an aerodynamic tunnel in the bottom of the car.
Faraday apparently still has secrets though, as Senior Vice President of Research and Development Nick Sampson did not mention how much the company has spent so far, what's first in line for production and if there are additional investors. Sampson did however say that the company would deliver its first production car in a couple of years, and that they are still looking for a battery supplier.
Just before the debut of the concept car, Faraday reportedly lost its chief battery architect, Porter Harris. Harris, a former SpaceX employee, left to join a research and development company as "CEO and Janitor," according to his LinkedIn page. This could prove to be a challenge for Faraday, which still has a long way to go to be competitive in the electric vehicle industry, especially since it is only 18 months old.
So, what do you think?
Is Faraday's concept car a worthy rival of Tesla? Did it live up to the mystery and suspense built up for several months prior to its debut? Comment below or tweet me @BetheABM.