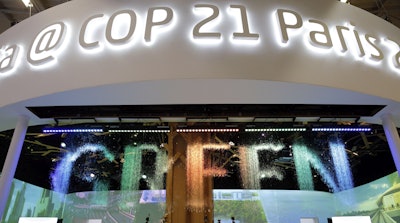 By many accounts, the 2009 climate summit in Copenhagen was kind of a flop. The accord set a ceiling for temperature rises at 2 degrees Celsius (3.6 degrees Fahrenheit), but left the details of how that was to be achieved open-ended.
Early in the talks, the goal had been 1.5 degrees, with an 80 percent reduction in global carbon dioxide emissions by 2050. In the eleventh hour, all of that seemed to disappear.
The deal — between China, South Africa, India, Brazil and the U.S. — promised to provide $30 billion a year in public and private funds to help vulnerable developing countries to adapt to and mitigate the damages of a changed climate. That fund was set to reach $100 billion by 2020.
Gordon Brown, then British prime minister, said of the agreement, "This is the first step we are taking toward a green and low-carbon future for the world, steps we are taking together. But like all first steps, the steps are difficult and they are hard."
The Copenhagen accord also called for an assessment of those decisions in 2015. And here we are: COP21.
2 Degrees
Even if the Paris climate talks result in an immediate zero-emissions carbon cap, the carbon already in the atmosphere — as trees and other plants cannot keep up with the rate of emissions — will likely lead to a temperature increase of .6 degrees Celsius. 
That increase would put us at 1.6 degrees above pre-industrial levels, on a track to the all-time 2-degree limit set by the Copenhagen accord within 20 years. While a small difference on a small scale, 2 degrees over an entire planet can melt glaciers, raise sea levels, disrupt ocean currents, change weather patterns and so on, and each of those effects comes with a litany of repercussions. 
Most, it seems, are banking on the idea of "negative emissions," through tech like carbon capture, but these measures would have to happen on a large scale and be so efficient, that a recent study found it's not a feasible option.
COP21
The goal at COP21, regardless of the specific degrees and dollar amounts, will be to rein in emissions. Nearly 200 governments are now trying to agree on the best way to go about it, and there is so much disagreement that the talks have been extended through Saturday.
The latest draft, released Thursday afternoon, still contained 50 sections with disagreement — down from 361 the day before — across 27 pages.
The draft outlines more loose goals, such as to "hold the increase in the global average temperature to well below 2C above pre-industrial levels and pursue efforts to limit the temperature increase to 1.5C, recognizing this would significantly reduce risks and impacts of climate change."
The draft also reaffirms the $100 billion commitment to a fund to aid developing countries.
Two things notably missing from the COP21 talks are a potential carbon tax — widely noted as the best way to speed up change in industries — and consideration of the emissions from shipping and airplanes. As reported by The Associated Press, Kevin Anderson of Britain's Tyndall Centre for Climate Research, said that omission makes it "weaker than what came out of Copenhagen."
What do you think is missing from the climate discussion? If you were at the negotiating table, what would you ask for? Comment below or tweet @MNetKatie.