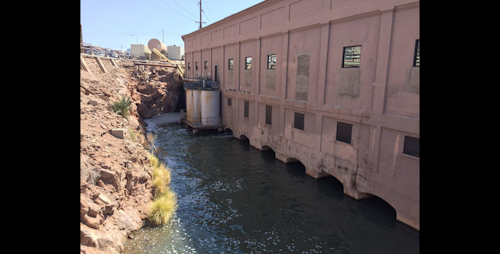 PHOENIX (AP) — Utility officials are working toward a plan to overhaul a 102-year-old power plant and bring it back online following its closure in 2013.
The Crosscut hydropower plant was generating 25 to 50 percent less power than normal because of restricted water flows before a failed transformer caused the closure, the Arizona Republic reported.
The Salt River Project tries to conserve reservoir water because of lighter snowpack levels in winter by sending less through the Crosscut Canal leading to the plant.
It could cost millions of dollars to bring the plant back online, an investment that an SRP official said depends on years of a significant amount of water flowing through the canal. "We don't want to put the money into it until it makes sense," said John Blevins, SRP's operations and maintenance manager for hydro generation.
The utility relies on groundwater as an alternative to the reservoir supply. Water flows into the plant's turbine building.
"The water order completely drives what this thing is going to produce," Blevins said as he stood over the turbine.
The turbine is disconnected.
Cleaning the turbine would cost $75,000. If copper wiring around the turbine fails, that would mean another $500,000 expense to replace it. Updating outdated equipment could cost an estimated $500,000, Blevins said.
"When we started doing the math, it was some big dollars," he said.
The Tempe facility had been providing power for the growing Phoenix area since 1914. It is capable of producing enough power to supply about 750 houses.