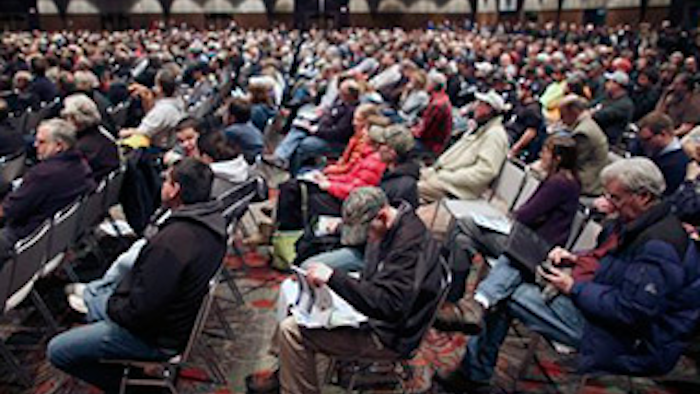 ST. PAUL, Minn. (AP) — The proposed PolyMet copper-nickel mine's potential impact on water was a popular subject at Tuesday night's third and final public hearing on the state's draft environmental review.
Opponents of the project last week said the review underestimated how much contaminated water could flow from the pit mine, which would be located near Babbitt. Poly Met Mining Corporation also wants to build a processing plant near Hoyt Lakes, both in northeast Minnesota.
The Department of Natural Resources has defended the nearly 2,200-page review, saying the modeling was based on good data, and hundreds of mine supporters who traveled south to St. Paul by bus or car argued Tuesday the project had been thoroughly analyzed.
Ely resort owner and outfitter Joe Baltich also made an appeal to bring jobs, possibly 300 to 360 permanent ones, into the area.
"There's no doubt that in 2014 that we can safely extract the minerals without damaging the waters or land. I'm in the tourism industry, and I certainly don't want to shoot myself in the foot," he said, according to the Star Tribune. "But we're losing businesses right and left ... We're going to lose everything, and it's my hometown."
But a seemingly equal number of opponents questioned state officials about the possible contamination to the Lake Superior watershed.
"I know we need jobs," said William Hane of St. Paul. "But there's never been a copper cobalt mine that didn't pollute."
Hundreds of people packed the St. Paul RiverCentre to listen and voice opinions, Minnesota Public Radio reported. The two previous hearings, in Duluth and Aurora, drew about 2,000 people combined.
Officials with the DNR and several federal agencies will now look at the thousands of comments made through email, letters and at public hearings to determine whether the review should be changed, a process that could take months. After that the DNR is expected to decide if it'll grant the permits to PolyMet.