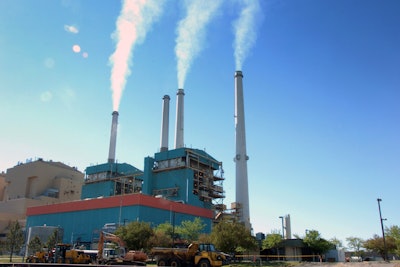 BILLINGS, Mont. (AP) — Retrofitting Montana's largest coal-fired power plant to reduce greenhouse gas emissions would cost at least $1.2 billion, but selling captured carbon dioxide for use in oil fields could help offset the cost, federal officials said Wednesday.
Senior U.S. Department of Energy representatives presented the agency's analysis of reducing emissions from the Colstrip plant at the request of Gov. Steve Bullock.
Colstrip is the state's main human-caused source of carbon dioxide emissions, a major contributor to climate change.
Bullock, a Democrat, is up for re-election in November. He's faced a barrage of Republican criticism for not doing enough to protect the aging plant, as a shift toward other fuels and more stringent pollution regulations batter the coal industry.
"We need to be saying, what can we do to find solutions?" Bullock said to utility and mining executives gathered at his office in Helena for the public release of the Energy Department findings. "Those discussions only become more urgent given recent developments at Colstrip."
The southeastern Montana plant in 2014 emitted about 16.5 million tons of carbon dioxide — two-thirds of the state's reported total, according to the Environmental Protection Agency.
Two of Colstrip's four electricity-generating units will close by 2022 under a legal settlement reached last month between the plant's owners and environmentalists.
Retrofits on the remaining two units could reduce emissions between 30 percent and 47 percent, at a cost of $1.2 billion to $1.4 billion, said Angelos Kokkinos, the Energy Department's director of advanced energy systems.
The agency did not account for the ongoing cost to run carbon-capturing equipment. A previous Department of Energy study suggested those expenses could roughly double the price tag.
Putting the captured carbon dioxide to use by pumping the gas into underground crude oil reserves to boost production could bring in revenues of $3 billion to $4.4 billion over 25 years, Kokkinos said.
But the revenue figures are based on projected demand for carbon dioxide with oil selling for $106 a barrel. That's more than double the current price.
There are no definitive plans to capture carbon from Colstrip and neither the plant's owners nor government officials have offered to pay for it.
Bullock said he was interested in establishing a work group of interested parties to refine the idea and come up with more specific details on costs, said Bullock spokeswoman Ronja Abel.
Colin Marshall, president of Cloud Peak Energy, which operates Montana's largest coal mine, said he was encouraged that federal energy officials had identified technology to reduce emissions while retaining jobs.
A spokesman for Bullock's challenger, Bozeman businessman Greg Gianforte, said he viewed Wednesday's presentation as a campaign stunt, but added that capturing Colstrip's carbon should be considered.
"We ought to be looking at all options, including carbon capture," spokesman Aaron Flint said.
The Department of Energy also analyzed potential emission reductions at Colstrip through improved plant efficiency and using natural gas or biomass as supplementary fuels.
Using natural gas would yield greater benefits, reducing emissions by 13 percent, Kokkinos said. But that would require building a new pipeline to Colstrip.
Improving plant efficiencies or using biomass fuels would result in at most a 3 percent drop in emissions, he said.