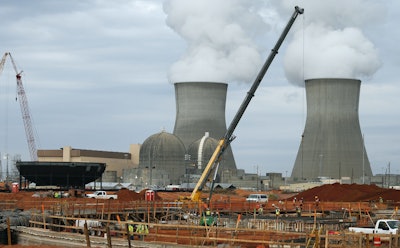 The federal government is showing its continued support for the construction of two reactors at a Georgia nuclear power plant, a troubled project that has already far exceeded its initial budget and timeline.
Secretary of Energy Rick Perry on Friday announced conditional commitments for up to $3.7 billion in additional loan guarantees to the owners of Plant Vogtle (VOH'-gohl), according to an emailed statement from the Department of Energy.
"I believe the future of nuclear energy in the United States is bright and look forward to expanding American leadership in innovative nuclear technologies," Perry said. "Advanced nuclear energy projects like Vogtle are the kind of important energy infrastructure projects that support a reliable and resilient grid, promote economic growth, and strengthen our energy and national security."
The reactor project at the plant south of Augusta is the first new nuclear plant to be licensed and to begin construction in the U.S. in more than 30 years. The project's future was thrown into question after the main contractor, Westinghouse Electric Co., the U.S. nuclear unit of Japan's Toshiba Corp., filed for bankruptcy in March.
The Department of Energy said Georgia Power Company, the main partner in the project, would get $1.67 billion. Company chairman, president and CEO Paul Bowers said in a news release that the federal government's continuing financial support "will help us continue to reduce our financing costs."
Co-owners Oglethorpe Power Corporation and three subsidiaries of Municipal Electric Authority of Georgia are slated to receive loan guarantees of $1.6 billion and $415 million, respectively. The Department of Energy says it has already guaranteed $8.3 billion in loans to the companies for work on the reactors.
The project is billions of dollars over its initial estimated cost, and the projected completion date has been pushed back numerous times. The first of two new reactors was supposed to start operating in April 2016, with the second following a year later.
Georgia Power has said the two new reactors, which are less than half-finished, can be completed by November 2022. Finishing the project, even after the main contractor's bankruptcy, still makes more sense than the alternatives, including abandoning the project, or building a power plant that burns natural gas, the company has said.
Consumer advocacy groups dispute that. They have long feared that various complications, including financial struggles at Toshiba, will continue to lead to raised costs for customers.
"It makes no sense for the federal government to throw a lifeline to this project," said Liz Coyle, executive director of Georgia Watch, a consumer watchdog group based in Atlanta.
Coyle cited the recent decision in South Carolina to abandon construction of two new reactors after spending nearly $10 billion as evidence that a U.S. nuclear renaissance is too costly to succeed.
"These are federal subsidies for a project that's clearly not economically feasible," Coyle said. "Now taxpayers all across the country are potentially on the hook even more for these two over-budget facilities that may never provide energy for Georgia."
The Georgia Public Service Commission will have the final word on the fate of the Vogtle expansion, and Georgia Power recently urged the state regulators to allow the project to continue. The commission is expected to make a decision by February.
But most on the five-member state board already have indicated they're reluctant to pull the plug after more than $5 billion has been spent on Georgia Power's portion of construction and financing.