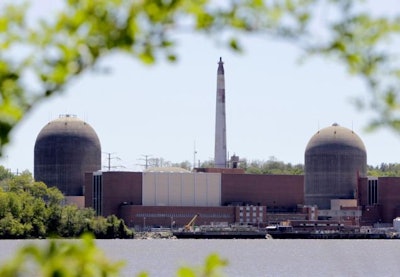 New York Gov. Andrew Cuomo announced Monday that a controversial nuclear power plant north of New York City will close in just more than four years' time.

Cuomo, who made the announcement during an address in Buffalo, said that the Indian Point Energy Center would be shuttered completely by April 2021, which is 14 years earlier than expected under the terms of the facility's next federal license.
Reports of the deal between state officials and plant owner Entergy Corp. surfaced late last week. One reactor will close by April 2020 while the closes within the subsequent year.

Although the governor supports nuclear power in the upstate region, Cuomo long argued that the aging plant presents an unacceptable safety risk due to its location some 30 miles north of New York City.

Critics also argue that the plant repeatedly violated safety standards and jeopardized the environment of the lower Hudson River Valley. Indian Point dealt with a slew of safety incidents in recent years.
"For 15 years, I have been deeply concerned by the continuing safety violations at Indian Point, especially given its location in the largest and most densely populated metropolitan region in the country," Cuomo said. "I am proud to have secured this agreement with Entergy to responsibly close the facility 14 years ahead of schedule to protect the safety of all New Yorkers."

Proponents of the plant, however, worried about job losses and a lack of readily available low-carbon power needed to supply the New York metropolitan area — particularly given the state's ambitious clean energy goals. The Cuomo administration suggested that sufficient new sources would be online prior to the plant's closure and said the decision would not greatly effect utility rates.

Entergy, which began seeking a 20-year license renewal for the plant in 2007, said that rising operating costs and continued low energy prices contributed to the decision to shut down the plant ahead of schedule.

Under the agreement, the utility will establish a $15 million fund for environmental restoration and community projects. Entergy also committed to offer plant employees new jobs at other facilities.

"We thank our nearly 1,000 dedicated employees for operating a world-class nuclear power generating facility at top levels of safety, security and reliability, as well as the community for supporting us," Entergy CEO Leo Denault said in a statement.