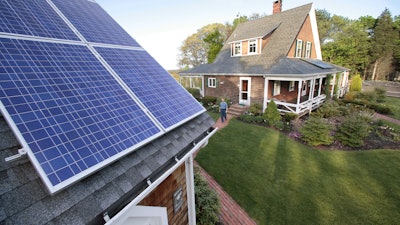 Newly passed extensions of renewable energy tax credits could provide an easier path to sweeping emissions reductions in the next decade, experts told Climatewire this week.

A year-end federal spending bill — passed last week in order to avoid a government shutdown — included a pair of energy initiatives to appease both Republicans and Democrats.

Republicans received a long-sought repeal of the nation's ban on crude oil exports, while Democratic-backed provisions would extend expiring solar and wind energy credits.

The report said that the wind energy sector's production tax credit would remain at 2.3 cents per kilowatt hour next year and decline gradually in each subsequent year until its 2020 expiration.

The solar industry, meanwhile, would stay put at its current investment tax credit of 30 percent through 2018 before declining incrementally to 10 percent by 2022.

Credits for other renewable sources — including hydroelectric, tidal and geothermal — were extended by one year.
Proponents of the credits had hoped for longer extensions, but nonetheless said that the spending bill would encourage billions in additional investment in those technologies.

The extensions could also provide a crucial link to the Obama administration's Clean Power Plan, which is slated to begin measuring emissions from the nation's power plants in 2022. The plan calls for a 32 percent reduction in carbon emissions from power plants by 2030.

"There will be a lot of build in markets where there's a need for CPP compliance," Alex Klein of consulting firm IHS told Climatewire. "We expect a lot of incremental wind build in Texas and a lot of growth in solar in the Southeast and the Midwest."

The solar industry alone anticipates that extending its credit would lead to $133 billion in investment and 220,000 jobs.

The power plant initiative, however, faces stern opposition among Republicans and legal challenges by industry groups and numerous states.