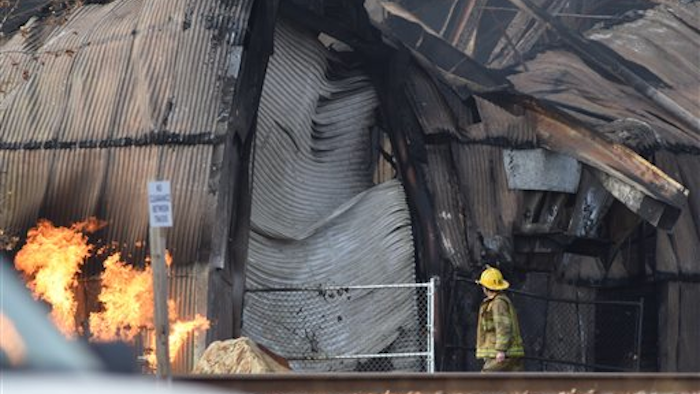 Workers at a Pennsylvania warehouse were pouring hydraulic fracturing chemicals into a production tank Tuesday when a fire started, forcing residents from more than 70 nearby homes and injuring four people, emergency and company officials said.
Hazardous materials crews moved people living near the warehouse in Leetsdale to a high school gymnasium as a precaution. The warehouse about 15 miles northwest of Pittsburgh is owned by Lubrizol Corp.
The company and Allegheny County Emergency Services Chief Alvin Henderson said three employees were injured. One reportedly had a burned hand and two inhaled fumes, Henderson said. A firefighter also was being evaluated for inhaling fumes. None of the injuries was deemed life-threatening, Henderson and the company said.
The fire was reported about 10:10 a.m. Flames shot from the roof and dark gray smoke could be seen for miles as two buildings burned and firefighters tried to keep six others from burning. Three hours later, Henderson said the fire was mostly "knocked down," though it wasn't immediately clear how soon the residents of 72 nearby homes would be allowed to return.
Lubrizol workers were working with emergency crews to contain the fire and protect homes and businesses, the company said.
Henderson said the primary danger to the public would be inhaling fumes from two chemicals: ammonium persulfate and sodium chlorite. Both irritate the respiratory system, and could cause more problems for people who already have difficulty breathing, though neither would be considered life-threatening, Henderson said.