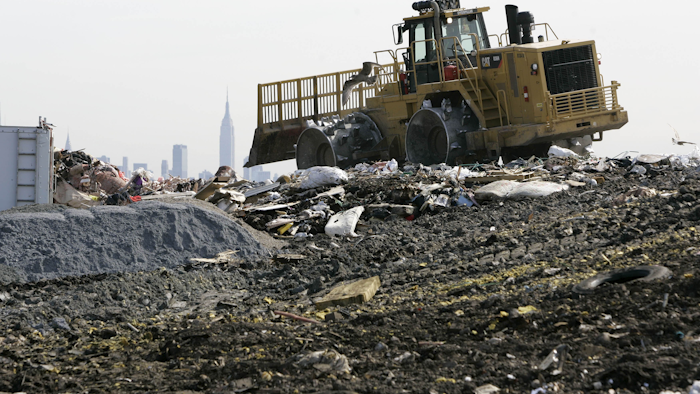 Connecticut's trash-to-energy agency is seeking a 21st-century makeover for its Hartford plant as it grapples with shifting recyclable and energy markets that undercut its finances.
More than a decade after its predecessor agency lost $200 million in a deal with bankrupt energy giant Enron, the Materials Innovation and Recycling Authority, which handles trash from more than 50 municipalities, is looking to hire a company to redevelop the waste-to-energy plant in Hartford and other facilities.
The goal is to recycle more trash — and burn less — using composting, biological processes to break down biodegradable materials and other technologies. A new plant is not expected to be built and operating until 2023, said Tom Kirk, the authority's president and chief executive officer. State energy officials do not have a cost estimate.
The Hartford plant, in operation since 1988, is "long in the tooth" and nearing the end of its design life, he said.
Some equipment in the power generating block was used between the 1920s and 1940s when the power plant was coal-fired, said Lee Sawyer, project manager at the state Department of Energy and Environmental Protection. Aging equipment, including turbines needing an upgrade, occasionally force the plant to be shut for extended periods with trash sent to other states, driving up costs.
The goal is to recycle 60 percent of trash that's burned or sent to landfills, up from 30 percent now. About 60 percent of garbage is currently burned in waste-to-energy plants and 10 percent is sent to landfills.
Connecticut uses very few landfills — just Manchester and ash residue in Putnam — to dispose of trash, which Kirk calls a "tremendous accomplishment."
The agency annually recycles 65,000 tons of recyclables and burns garbage to produce energy sold to New England's power grid. It's one of 20 facilities in New England using municipal solid waste as its primary fuel, generating 2.4 percent of electricity produced in the region last year, according to ISO-New England, the region's grid operator.
The Hartford plant faces other problems that are less easily fixed by a revamped waste management plant.
Operating revenue this year fell 20 percent, to $98.3 million, from $123.4 million in 2014. Most of the decline was due to the closing of a division and reduced fees paid by some municipalities to dispose of trash. But 38 percent of the reduced revenue was due to falling energy sales due to lower electricity production.
Electricity prices so far this year have fallen more than 30 percent over the same period in 2014, according to Stifel analyst Michael Hoffman. And commodity prices have been pushed down by China's slowing economy.
Lower commodity prices have a smaller impact on Connecticut's trash-to-energy project and squeeze the profitability of recycling, prompting MIRA to reconsider a longstanding policy of giving towns recycling rebates.
Low wholesale electricity prices have had an impact on waste-to-energy plants nationwide, creating a "tough market to operate in," said Ted Michaels, president of the Energy Recovery Council, a trade group representing the waste-to-energy industry and communities that own the facilities. A new Florida plant is the only new facility in the U.S. that has opened in the past 20 years, he said.
Gov. Dannel P. Malloy and lawmakers enacted legislation in 2014 replacing the tarnished Connecticut Resources Recovery Authority with MIRA. The revamped agency is to focus more on boosting recycling and improving technology used to handle trash, Sawyer said.
Sawyer said he does not believe the Connecticut Resources Recovery Authority shadows the agency that replaced it.
"MIRA has done good work to move past that issue," he said. "This isn't the old CRRA."