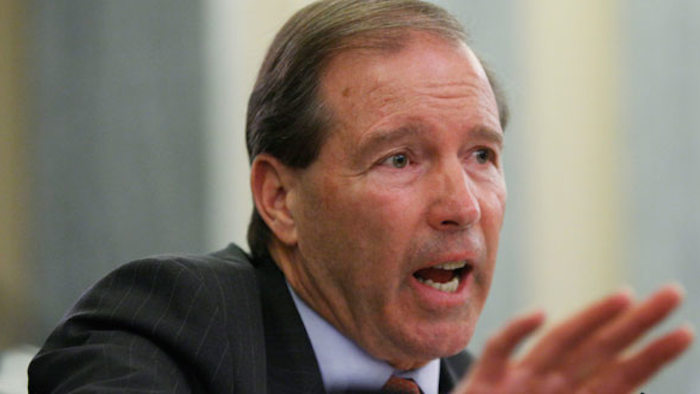 U.S. Sen. Tom Udall and a Senate colleague have introduced a bill that would overhaul 40-year-old federal regulations that govern the nation's chemical industry.
The bill submitted Tuesday and co-sponsored by Udall, a New Mexico Democrat, and Sen. David Vitter, R-Louisiana, would require the Environmental Protection Agency to make its assessments about chemical safety solely on risk to public health and the environment.
It also would increase fines on chemical companies that break the law from $25,000 to $37,500 per violation, the Albuquerque Journal reported Wednesday. 
The bill has drawn fire from some environmentalists and Sen. Barbara Boxer of California, the top Democrat on the Senate Environment and Public Works Committee.
Boxer has described the Udall-Vitter bill as a gift to the chemical industry. In a statement, she said legal experts tell her the bill is worse than current law.
She contends the measure would gut the role of states in protecting people and there's no assurance that asbestos and children's cancer clusters would be addressed.
"This means there will be fewer protections from the most dangerous chemicals for communities and families," she said.
Daniel Rosenberg, senior attorney with the Natural Resources Defense Council, echoed Boxer's concerns. He said the bill blocks state action and contains rollbacks that would clear the way for a lax EPA to deregulate hundreds of chemicals with minimal review.
Udall rejected the criticisms. He said the new legislation is the result of nearly two years of deliberations and negotiations with stakeholders, affected communities and a bipartisan group of lawmakers.
He also said the proposal is tougher than existing law and is needed to protect the public.
"Americans are exposed to a toxic soup of more than 80,000 different chemicals, but we have no idea what the impact of those chemicals is on our bodies — or those of our children," Udall said in a statement. "Current law has failed to protect Americans from dangerous carcinogens like asbestos, and Congress can't afford to stand on the sidelines any longer."
The American Chemical Council — the national trade group for chemical companies such as Dow and DuPont — endorsed the bill Tuesday, as did the national Environment Defense Fund.
The American Chemistry Council was among Udall's top 20 industry donors last year, according to opensecrets.org, a nonpartisan campaign finance watchdog group funded by the Center for Responsive Politics. The council also ran a television ad in New Mexico on the senator's behalf.
Udall dismissed criticisms that he had gotten too cozy with the industry.
"Never has a political contribution had an impact on what I do on public policy," he said.