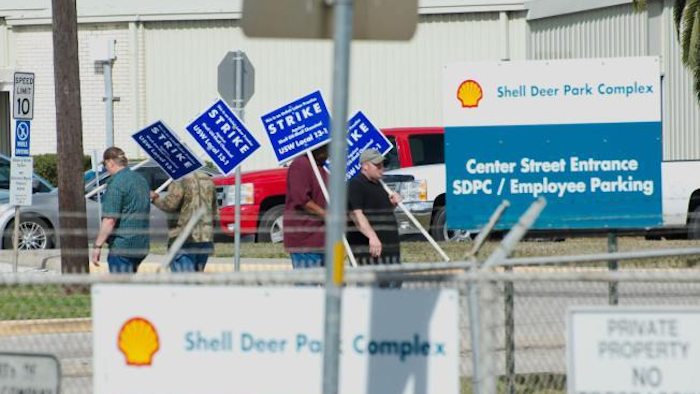 About 3,800 workers have walked off the job at nine refineries across the country after the contract between the United Steelworkers Union and oil companies expired Sunday.

The strike is the largest at refineries in more than three decades, though the workers in question represent just a fraction of the roughly 30,000 USW members working at 63 refineries and plants, which account for about two-thirds of the nation's refining capacity.

The walkouts, however, would impact about 10 percent of the nation's overall capacity. Five of the affected plants are in Texas, with two in California and the others in Kentucky and Washington.

USW officials began preparing for strikes late last month after talks over a new three-year deal with oil industry negotiators stalled.

The union is seeking increased safety measures and wage and benefit increases, arguing workers should share in the record profits stemming from increased domestic production and lower oil prices. Union officials also accused the industry of alienating chapters over local refinery issues.

The strike call came after the union rejected the latest offer from Royal Dutch Shell, the industry's lead negotiator.

"Shell refused to provide us with a counter-offer and left the bargaining table," said USW International President Leo Gerard. "We had no choice but to give notice of a work stoppage."

Shell officials responded that the company remains "committed to resolving our differences with USW at the negotiating table to reach a mutually satisfactory agreement" — though the industry had also prepared for a potential strike by training managers and non-union workers and setting up lodging for potential replacement workers.

Although the stoppage could take a toll on the nation's refining capabilities, it has helped alleviate a months-long slide in the price of oil.

Crude prices had plummeted to less than half their June 2014 levels as production increases outpaced global demand, but the West Texas Intermediate and Brent indexes increased 4.8 percent and 5 percent, respectively, in early trading Monday.

The increased followed a Friday rally, sparked by reports that production companies idled a record 94 U.S. oil rigs.