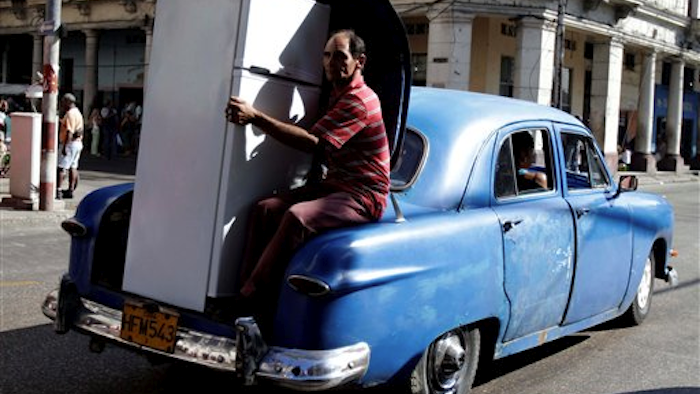 HAVANA (AP) -- Cuba has authorized individual imports of appliances such as air conditioners, refrigerators and microwave ovens, lifting a ban imposed in 2005 amid a wave of energy shortages and blackouts.
Islanders can now bring up to two such appliances per person into the country for noncommercial purposes, according to a law enacted with its publication Monday in the Official Gazette.
The list of approved items includes air conditioners with a capacity of less than 1 ton, ovens that consume less than 1,500 watts and microwaves under 2,000 watts.
The change could strain even further the already-overstuffed cargo holds of flights from places like Miami, Ecuador and Panama to Havana. Cuba-bound travelers who routinely check bulky bundles and multiple plasma-screen TVs will now start thinking about things like air conditioners, chest freezers, microwaves and ovens.
Even accounting for import taxes, it will often be cheaper to bring those items in from abroad than to pay for them in state-run hard-currency stores where the markup is said to be around triple as a rule of thumb.
In one shop in Old Havana on Friday, for example, a Hamilton Beach sandwich maker that lists for $29.99 on the company's website was on sale for the equivalent of $94.40.
"Prices for those products in Cuba are very high. Nobody has enough to buy something like that," said Maria Rosas, a 42-year-old office worker who added that she makes about $12.50 a month. "I see things like a blender, a sandwich maker or one of those steam irons, and I'd like to have them, but I can't afford to."
Rosas' salary is low even for Cuba, where government wages average around $20 a month. The socialist system greatly subsidizes a number of basic staples and housing, however, along with distributing ration cards that cover part of islanders' nutritional needs and offering free health care and education.
Cubans often make do by running something on the side, be it a legitimate small business opened up under President Raul Castro's recent economic reform program, or by offering black-market services or goods pilfered from state enterprises.
Others gain access to hard currency through tourism-sector jobs or by working for foreign companies, and just about everyone has a relative in Florida or elsewhere who's a potential source of remittances.
The new rules on importing appliances would seem to benefit most the few-but-increasing number of Cubans who are traveling abroad, said Roberto Fortin, a 45-year-old independent worker.
Some predicted that as is already happening with television sets, computers and other high-ticket items, those travelers will often bring in the maximum allowed, and sell at a hefty profit while still undercutting the state-run stores.
"What the government is not going to be able to avoid with this measure is that people who travel won't just buy for their personal use, but also to resell it later," said Gregorio Santos, a 72-year-old retiree. "They might lower the prices in stores, but I don't think so because the people who make those decisions don't have the slightest idea about business."
Personal importation of energy-sucking appliances was restricted eight years ago during an energy crisis that prompted then-President Fidel Castro to launch the so-called Energy Revolution seeking to lower consumption.
Castro went on state TV to promote more efficient rice steamers and pressure cookers, government workers fanned out across the island replacing incandescent light bulbs in homes and the country's creaky electrical grid got an update.
Blackouts are much rarer today, thanks in part to a steady flow of oil on preferential terms from close ally Venezuela.
In 2011, Cuba resumed local sales of domestic appliances in response to demand and to support private small businesses that have been launched under Cuba's economic reforms.
Authorities have continued to stress the importance of conservation to keep Cuba's power grid from being overtaxed.
Associated Press writer Peter Orsi in Havana contributed to this report.