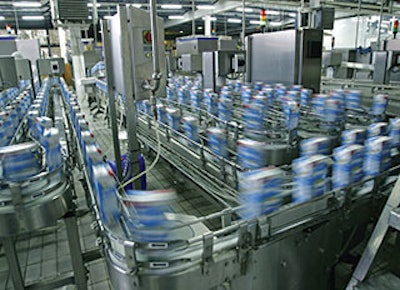 Editor's note: This article originally appeared in the November/December print issue of Food Manufacturing
The food and beverage industry consistently ranks high among manufacturing sectors in the U.S. in the category of energy usage. Surprisingly, energy expenditures historically have been among the most overlooked costs in a food plant. In the past, energy management was straightforward – manufacturers simply received a bill and paid it.
ALSO SEE: Effectively Improve Operational Efficiency for Food and Beverage Manufacturers
But today there's a different scenario. Increased competitive pressures, tighter margins and rising energy costs are forcing manufacturers to alter their methods of operation.
New ways of managing energy consumption and quality through sophisticated monitoring tools have emerged – providing the information companies need to be able to take action to reduce energy use while considering energy as an ingredient of production and a variable cost.
By developing an integrated energy management program based on accurate consumption and spending patterns and demand profiles, companies can calculate power consumption costs between their energy base load, various utility equipment and production lines or in the manufacturing of a specific product. With a more accurate determination of actual product costs, managers are able to make more intelligent business decisions.
Charting the Course
An important element of an effective energy management strategy is to first determine an energy management expert who understands industrial processes, can provide transfer of best practices from similar industries and knows how to uncover energy savings opportunities.
This expert also can play a key role in helping you understand their tariff structures and how energy bills are calculated. For example, if the utility is offering four or five different tariffs, which one best suits your particular process? A tariff analysis can identify alternative ways to save money and evaluate new supplier and tariff options. The analysis also can provide a detailed examination of energy bills, including a breakdown and explanation of all charges, the best ways to reduce energy costs under the current contract, and the best attributes to look for in a new supplier or contract.
Before implementing the required energy management technology, companies should first identify their overall business goals, and then develop an energy strategy that seeks to accomplish those goals. Goals should be specific to the areas of energy costs that need to be addressed and integrated with other company strategies for cost reduction, quality and productivity improvement targets.
In most cases, the first step for a plant may be to simply define and understand the plant base load, which is where and how much energy is being consumed when little or no product is being produced.  
Often plant managers are surprised to find that 60 to 70 percent of the plant's energy is being consumed when no production is running. Getting a handle on the true base load or fixed portion of your energy consumption is a good place to start.
Once the goals are identified and the energy strategy is determined, the next step is to put the technology and infrastructure in place to achieve the desired goals. The good news is that while electricity is the largest energy cost for most food and beverage plants, it also offers the greatest opportunities for savings.
Creating the Infrastructure
Approximately half of all energy consumption in the food and beverage industry is used to change raw materials into products while the remaining is used for the processes required for product preservation and safety, such as freezing, drying, refrigeration and packaging. Knowing where energies are allocated refers to the various processes throughout the plant, such as mixing, blending, depositing, baking, frying, packing, refrigeration and warehousing. Defining each of the largest energy consumers in the process is critical.
Underlying these processes are the motors, fans, heaters and compressors. How efficiently are they performing? Are the motors and pumps the right size and style for the application?
Once critical energy consumer's design or target consumption levels are defined, they need to be measured. When the underlying infrastructure is in place to understand where and how energy is being consumed, it will be easier to formulate a strategy that will allow you to transition into the three core steps of energy management: monitor, analyze and control.
Monitor, Analyze and Control
At the core of an effective monitoring program is a network of digital power-monitoring devices that capture and communicate energy consumption information. These devices are used to measure energy
parameters associated with a specific system. This allows plant managers to gather detailed information on power consumption in different areas of their plants, on specific machines (such as refrigeration compressors) and even on individual product lines. In addition to usage data, managers have access to power quality information that can improve productivity and lengthen equipment life, further enhancing profits.
While monitoring systems provide the foundation for the accurate collecting and charting of energy data, analyzing this information enables plants to make better decisions about controlling costs.
However, in order for this information to make a difference in operations, it must flow smoothly from the plant floor to the top floor. Therefore, the key to maximizing the benefits of an energy management program is building a unified system based on an integrated architecture that relates energy consumption to plant activities and provides insights that can lead to improvements.
By using a system that's based on open standards and integrated from the controllers to motor control and beyond, organizations can access energy information wherever it's needed in the enterprise. After analyzing that data, plants can develop an action plan and install automation systems to capture energy savings using a number of control system options, such as demand management and emergency load-shedding systems.
Many of today's power monitors can observe designated field loads, power sources and build a "load shed table" based on the steady state conditions, the instantaneous electrical system topology, and priority table designated by the user. They also allow configuration of load-shedding priorities based on production requirements.
Sustain Gains
Sustaining energy gains can be an elusive effort. Many variables in plant operations can change the energy profile of a plant and mask the true gains made by a well-conceived program. Plant capacity and shifts can be added and rate structures can change. If sufficient details and metrics are not tracked on an ongoing basis and related to plant production output, it may appear that investments made for energy conservation purposes are not paying off. Continue to reinforce energy as a priority in operational decision making, keep employees informed and let your customers know. You can do this by holding monthly reviews on critical energy KPIs or conducting annual energy-management-system assessments to assure the program is following the ongoing plan set by management.
Bottom line: Energy costs are controllable. The key is identifying your energy management goals, developing a corresponding strategy, and putting the technology in place that enables you to accurately monitor, analyze and control energy consumption and quality.