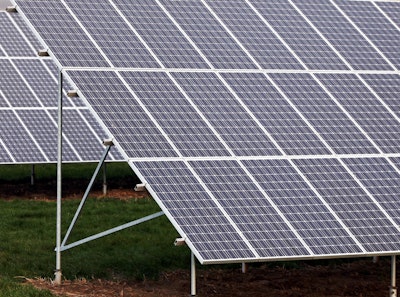 Going "green" is not only good for the environment—it is also good for the wallet in the long run, and it helps boost the social capital of a company. According to environmental news website Clean Technica, there are two primary ways to be considered "green" in the manufacturing industry. One way is to create eco-friendly buildings and products by using cutting edge technology to minimize waste and increase savings. The second way is to reduce pollution and waste in conventional manufacturing. The following is an overview of some of the most recent green practices in the manufacturing industry.
Weatherization
Weatherization involves constructing or modifying a building so that it is protected from the elements. This in turn reduces energy consumption, thereby enabling that building to save tens of thousands of dollars. Companies can save money and go green by weatherizing their manufacturing plants.
There are various components that go into weatherizing a commercial building. For newly constructed buildings, weatherization involves determining which direction the sun will shine from at a particular time and then placing windows in strategic locations so that the building will receive natural light, but not too much heat. Weatherizing also involves insulating the building properly and choosing an eco-friendly heating/cooling system. Existing manufacturing plants can be weatherized by sealing up leaks, replacing old appliances and machines that use up too much energy, and installing energy efficient windows.
Given the potential energy savings that weatherization has to offer, it is not surprising that President Obama made plans as early as 2009 to invest billions of dollars into weatherization initiatives, writes Tulsa Welding School. Additionally, the Department of Energy has developed weatherization assistance development and maintenance plans to promote weatherization.
Alternative Forms of Energy Used in Manufacturing Plants
Companies that are concerned not only about the environment but also their bottom line are turning to wind and solar to power their factories and manufacturing plants. For example, Honda has led the way in this field by using wind turbines to power two of its manufacturing plants, one in Ohio and the other in Brazil. Apel Steel Corporation in Alabama has taken another renewable approach. The company has installed enough solar paneling on one of its manufacturing plants to provide nearly all the electricity the plant needs. Renewable energy may have initial set-up costs, but the savings are easily seen after a short period of time.
Energy Efficient Batteries
R&D Magazine tells us that improvements in battery efficiency could influence the direction of some manufacturing industries. New, energy efficient batteries could impact the electronics manufacturing industry because they could allow electronic devices such as smart phones and tablets to become even smaller than they are now. Such batteries could also have a dramatic impact on the car manufacturing industry, making it increasingly easy and affordable to manufacture energy efficient electric cars.
SolidEnergy Systems, which is made up of a team of chemists, materials scientists, physicists and engineers, have created an energy efficient battery with a lot of potential. Known as the Solid Polymer Ionic Liquid rechargeable lithium battery (or simply SPIL), this battery is also safer than conventional batteries. APEI Inc. and Novinda are just two of the many other companies that are conducting extensive research in this field. Since a number of companies are investing time, money and effort into creating efficient yet affordable green batteries, it might not be long before such batteries appear on the market and become as commonplace as the batteries being used now.
It is clear that certain companies and manufacturers show great interest in finding new, innovative ways to preserve the environment and manufacture their goods in an eco-friendly manner. This leads to a win-win situation for all involved, as corporations are able to save large sums of money, their environmental footprint is lessened, and workers with green collar job training are able to take advantage of new job opportunities not previously available.
About the Author: Monica Gomez is a freelance writer in the green industry. She has written many articles on how companies can become more environmentally friendly.