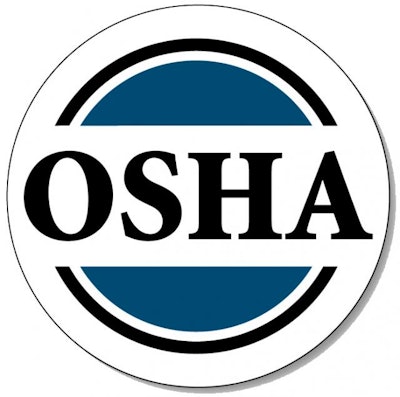 OSHA has issued MFG Chemical Inc. citations following an incident involving the release of chemical vapors from an over-pressurized reactor, which left one worker hospitalized and another dead from burns in his respiratory system.
After a media referral alleged that a chemical release had occurred in one of MFG's manufacturing facilities, OSHA launched a July 2014 inspection into the Dalton, Georgia plant, resulting in citations for 17 safety and health violations.
"MFG continues to violate OSHA standards, exposing workers to serious hazards associated with process safety management," Christi Griffin, director of OSHA's Atlanta-West Area Office, is quoted as saying on OSHA's website. "Allowing repeated violations demonstrates the company's lack of commitment to worker safety and health."
MFG manufacturers a range of specialty chemicals for markets including mining, pulp and paper, carpeting, polymer additives, water treatment and more.
According to a press release on OSHA's website, "OSHA issued repeated citations for MFG's failure to ensure that the reactor system alarm provided early warning for worker evacuation; not training workers on the hazards of permit-required confined spaces; and failure to ensure equipment used for manufacturing had an adequate pressure-relief design."
This isn't the first time MFG has run into troubles with worker safety.
In 2012, OSHA fined the company $77,000 and cited them for 19 alleged safety violations after a plant explosion required hospitalization for 40 employees. OSHA reported that the explosion happened when the plant was producing coagulant 129 — used in water treatment — and rising temperatures caused a reactor to over-pressurize, which set off a runaway reaction that ruptured a dome cover and blew a hole in the roof of the facility.
For this current incident, OSHA says, "Serious citations were issued for the company's failure to ensure guarded floor openings and pits; establish and implement written changes to the chemical manufacturing process; and identify previous workplace incidents that had the potential for catastrophic results. Other violations included failure to provide medical examinations for workers required to use respirators and not conducting fit tests for respirators."
Local media reported that MFG is not commenting on the citations.
OSHA's proposed penalties total $87,780 and MFG has 15 business days from the receipt of its citations and penalties to comply, request an informal conference with OSHA's area director, or contest the findings before the independent Occupational Safety and Health Review Commission.
For more, visit OSHA's website.