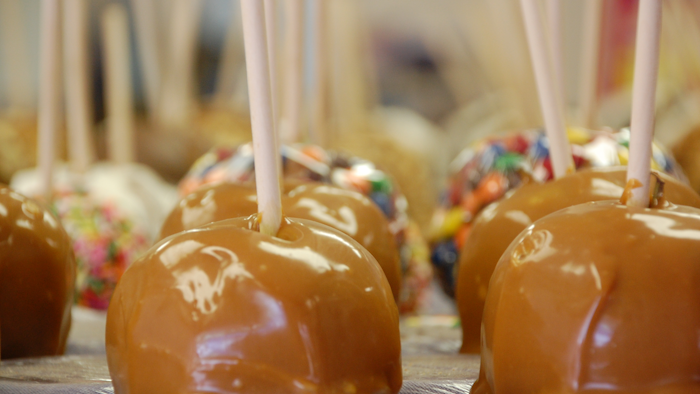 A recent study showed that unrefrigerated caramel apples are at a higher risk for harboring listeria, which prompted the nation's largest grocery chain to pull the product from its shelves.

Researchers from the University of Wisconsin's Food Research Institute applied strains of listeria to Granny Smith apples and dipped them in caramel. Some of the apples were punctured with a stick prior to dipping, while the others were dipped using tongs. The apples were then stored either at room temperature or in a refrigerator.

The study, published in the journal mBio, found that the average population of Listeria monocytogenes bacteria was 1,000 times higher on the punctured apples left at room temperature for three days.

Read more: Preventing contamination.

Caramel and apples, by themselves, are not typically associated with listeria contamination. Caramel apples without sticks, meanwhile, showed delayed listeria growth even if stored at room temperature.

Kathleen Glass, a lead co-author of the study, said that puncturing the apples with a dipping stick likely allowed juice to become trapped under the caramel and become "a microenvironment that facilitates growth of any L. monocytogenes cells already present on the apple surface."

Listeria monocytogenes can cause fever, headache, stiffness and gastrointestinal problems. It can also cause miscarriages and stillbirths and can be fatal to young children, the elderly and others with weakened immune systems.

The study was prompted by a listeriosis outbreak linked to prepackaged caramel apples late last year that sickened at least 35 people from 12 states and killed seven.

Glass said that consumers should look for refrigerated or fresh caramel apples, while producers should consider better temperature controls or disinfecting and adding growth inhibitors to the apples.

In response, Cincinnati-based Kroger and its affiliated grocery stores announced that it would withdraw pierced, unrefrigerated caramel apples from store shelves.

"While we believe the potential health risk is minimal, we are acting out of an abundance of caution on behalf of our customers," said Kroger food safety vice president Dr. Payton Pruett.