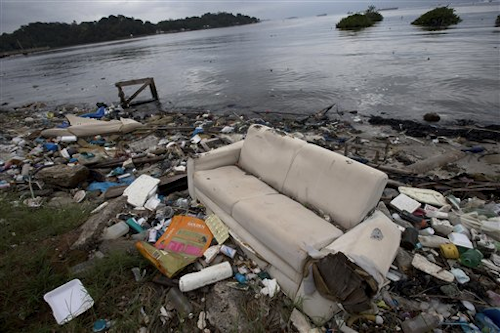 Work at a Brazilian mining company, Jacunda Mining Co., was brought to a halt this week after a retention dike broke, unleashing "large amounts" of sand and clay into a local waterway. According to an Associated Press report, Jacunda Mining extracts niobium and titanium.
The river affected by the spill is unpolluted, but it flows into Guanabara Bay, where several Olympic events are planned for next year.
Guanabara Bay has already been the subject of intense scrutiny this week as reports of toxic pollution have mounted.
Untreated sewage human sewage mixed with household trash have led to beaches and waterways that are so full of dangerous viruses and bacteria, some athletes training in the water have already fallen ill. According to an AP investigation, water samples collected from three Olympic sites tested positive for infectious human adenoviruses, which cause explosive diarrhea, violent vomiting, respiratory problems and other illnesses.
At one beach where marathon and triathlon swimming are scheduled to take place, the concentrations of human adenoviruses were nearly equivalent to raw sewage. Some international experts have said it's too late for the water to be adequately cleaned up.
Recent photos from AP and Reuters reveal the extent of the pollution in Guanabara Bay.
No word on how the Jacunda Mining spill will affect Guanabara Bay, but water quality test results are expected in about 10 days.