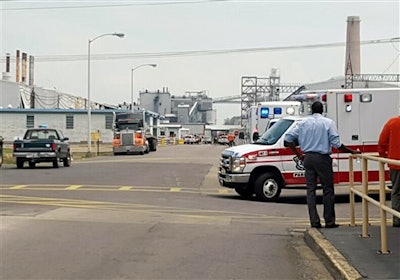 MARSTON, Mo. (AP) — A massive explosion rocked a southeast Missouri aluminum plant Tuesday, injuring some workers and creating a plume of smoke that could be seen for miles.
The explosion and fire occurred around 12:30 p.m. at the Noranda Aluminum plant near the town of Marston in New Madrid County, about 170 miles south of St. Louis.
Noranda spokesman John Parker said all workers had been accounted for and there were no life-threatening injuries. He said some people suffered what appeared to be non-critical abrasions, dust irritation or smoke inhalation.
Parker said one of the injured workers was taken to a hospital for treatment. Others were treated at the scene.
Parker said a molten metal explosion occurred in the cast house of the plant, where the company produces extrusion billet, a length of metal with a cylindrical shape. Production in the cast house was suspended, Parker said, but work continued at the rest of the facility.
Noranda employs about 900 workers in New Madrid County. Parker said about 20 people were working in the area where the explosion happened. The cause is under investigation.
Noranda, based in Franklin, Tennessee, is an aluminum producer with six plants in the U.S. and one on Jamaica. The Missouri plant is the company's primary aluminum smelter. The company's website says the plant produces about 263,000 metric tons of primary aluminum annually, roughly 15 percent of all U.S. aluminum production as of 2009.