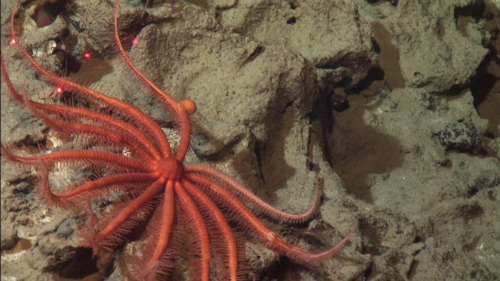 At the end of World War II, the U.S. military discarded an array of unused weapons off the coast of Hawaii.

Roughly 70 years later, a research team sent remote controlled submarines into the depths of the Pacific Ocean to chronicle the impact of those weapons on nearby marine life.

Instead of disrupting sea life, however, scientists discovered that the mustard gas canisters and unexploded bombs ended up creating a heavily populated artificial reef.

The field of weapons, located between 1,476 to 2,200 feet under the surface, is now home to brisingid starfish, sea anemones, mollusks, crustaceans and fish.

The team even uncovered a previously unknown species of brisingid. The starfish were particularly attracted to large loops of cable that were dumped along with the munitions.

"Because of their dependence on water flow to bring them food it behooves brisingids to find places above the ocean floor where there is a good current," said Christopher Mah of the Smithsonian Institute's National Museum of Natural History. "The military debris make ideal perches."

Scientists said the chemicals contained within some of the weapons do not appear to have made any adverse impact on nearby wildlife.