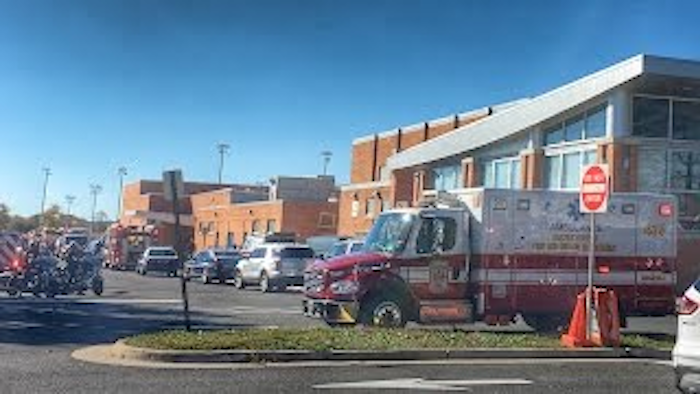 FAIRFAX, Va. (AP) — A high school chemistry teacher who was using chemicals to demonstrate different colors of flames started a fire that injured the teacher and five students, two of them seriously, at a northern Virginia high school Friday, fire officials said.
Two of the injured students were flown to hospital burn centers, where they were being treated for serious but non-life-threatening injuries, Fairfax County Fire Chief Richard Bowers said. One of those students underwent surgery Friday afternoon and was in critical condition, he said.
Three other students were taken to a hospital with less severe injuries, and the teacher was treated on the scene, Bowers said. W.T. Woodson High School in Fairfax was evacuated after the fire Friday morning, and classes were ultimately dismissed early.
Bowers said the fire was accidental. He said the students were observing the teacher demonstrate different-colored flames when something went wrong.
"It was a teacher-led instruction and demonstration and it was chemical in nature," Bowers said.
The seriously injured students suffered burns either from direct contact with fire or from heat, Bowers said. He said they were taken to burn units because of the extent of their injuries and because burns can be susceptible to infection.
The school's sprinkler system activated in response to the blaze and kept the fire contained, Bowers said. It was still burning when firefighters arrived. About half the classroom was damaged by fire, smoke and water, he said, and damage was estimated at $37,000.
By the time firefighters arrived, most if not all the people in the classroom had evacuated into the hallway, he said. The seriously injured students did not lose consciousness or require resuscitation.