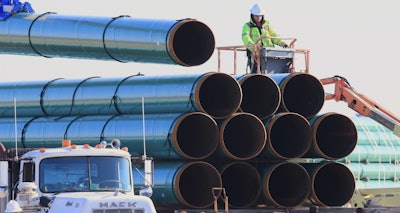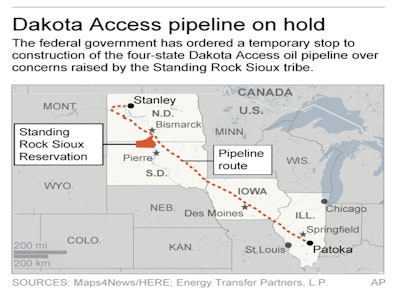 BISMARCK, N.D. (AP) — The company developing the $3.8 billion Dakota Access pipeline says it is committed to the project, despite strong opposition and a federal order to halt construction near an American Indian reservation in North Dakota.
Energy Transfer Partners CEO Kelcy Warren said in a memo to employees Tuesday that the four-state project is nearly 60 percent complete and that "concerns about the pipeline's impact on the local water supply are unfounded."
The 1,172-mile project would carry nearly a half-million barrels of crude oil daily from North Dakota's oil fields through South Dakota and Iowa to an existing pipeline in Patoka, Illinois.
The Standing Rock Sioux Tribe in North Dakota is suing federal regulators for approving the oil pipeline, arguing it will harm water supplies and disturb sacred burial and cultural sites.