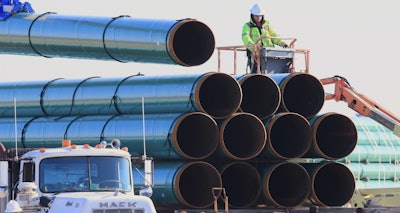 BISMARCK, N.D. (AP) — A sheriff says the developers of a $3.8 billion, four-state oil pipeline have agreed to halt construction of the project in North Dakota until a federal court hearing next week in Washington, D.C.
The Standing Rock Sioux Tribe is suing federal regulators for approving permits for the Dakota Access Pipeline that will move oil from North Dakota to Illinois. Tribal officials filed the lawsuit last month against the U.S. Army Corps of Engineers. The tribe's request for a temporary injunction hearing is slated for Wednesday.
Morton County Sheriff Kyle Kirchmeier says the pipeline's developer, Dallas-based Energy Transfer Partners, agreed with state and local officials Thursday to halt construction until the court date.
The company said in a statement that construction has temporarily stopped but did not specify for how long.