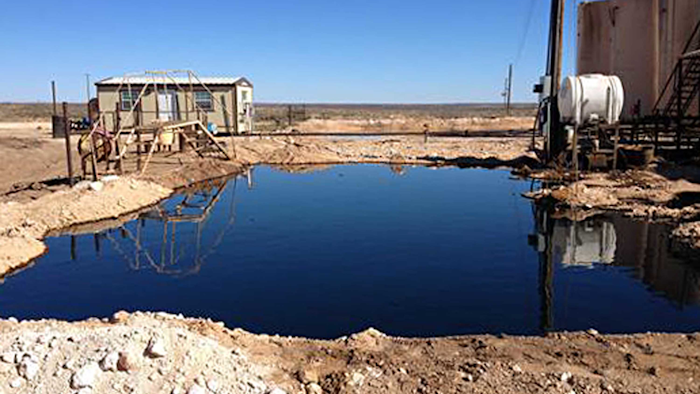 SANTA FE, N.M. (AP) — A Texas oil company shut down its wells in New Mexico as it took the first step toward addressing a spill at a wastewater injection well used by the oil and natural-gas industry.
Midland, Texas-based Siana Operations filed for a remediation permit and was expected to join state officials this week in assessing damage to property outside the town of Eunice that is overseen by the New Mexico State Land Office.
Wastewater from drilling operations is typically delivered by truck to disposal sites like Siana's, where most oil is skimmed off before water is injected deep underground. About 60 such sites are located on state trust lands in New Mexico.
State regulators accused Siana of causing the spill after its lease effectively expired at the disposal site. Photographs taken by the land office last week showed an unlined pool of water and oil on the ground at the site and traces of liquid on the ground nearby.
Siana continued operations there without authorization after the state rejected the company's request for discounted annual rent of $2,500 in 2011, regulators say. The state insisted on $10,000, plus volume-based disposal fees.
A company representative had no immediate comment Tuesday.
Regulators outlined possible trespassing fines of over $900,000 against the company in a February cease-and-desist order. The land office said Siana has not paid the state for its lease at the disposal site since December 2011 and last reported activity there in June 2015.
The state Oil Conservation Division that regulates drilling operations said Siana is complying with an order to temporarily shut off all of its oil and disposal wells until a hearing can be held on possible violations. Records list the company as an operator at 11 drilling locations.
Oil Conservation Division spokeswoman Beth Wojahn said Monday that discussions with the company are underway that could lead to a settlement.
The land office oversees lease proceeds from state trust lands that are funneled into multibillion-dollar funds for public schools, universities, hospitals and other public institutions. The trust lands extend across 9 million acres, with further subsurface land rights.