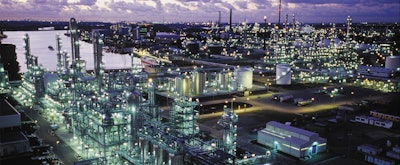 In July, LyondellBasell announced plans for a new polyethylene plant, saying it would be built somewhere in the South. This week the company announced its decision: the $700 million plant will be built next to its facility in La Porte, on the shores of the Houston Ship Channel.
The company is planning to begin construction next year and will finish by 2019.
"This location is ideal for this facility because of the feedstock advantage we enjoy, the ability to ship product around the world and, most importantly, the outstanding workforce that the Gulf Coast has to offer," Bob Patel, LyondellBasell CEO and chairman, said in a statement.
The plant is part of LyondellBasell's $4 billion expansion plans through Texas and the Gulf Coast. It is expected to produce 1.1 billion pounds of polyethylene a year.
The company says the plant will create about 1,000 construction jobs and 75 permanent positions.
ExxonMobil is also currently considering locations for a ethylene plant in the Gulf Coast region. The plant would be a joint venture with Saudi chemicals giant, SABIC. According to reports in July, the companies are evaluating four locations in Texas and Louisiana for the plant.
The new facility "a world-scale steam cracker and derivative units," according to Exxon.
The companies haven't announced when they'll decide on the location of the plant.