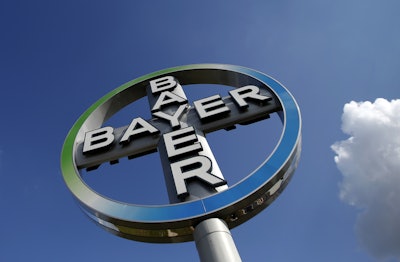 Bayer plans to invest more than $2.8 billion in capital projects for its crop sciences division despite a sluggish agriculture market.

"We are very confident about the long-term growth potential of the agricultural market," division head Liam Condon said at a company event at its Leverkusen headquarters.

Farmers worldwide have been hurt by low commodity prices — which helped erode farm income from crops — as well as broader economic and currency factors.

Bayer officials said that they expected the crops division to outperform the overall crop segment, but they conceded the presence of a "continuingly weak market environment."

The infrastructure funding, which is slated to be allocated between 2017 and 2020, would complement billions in research and development spending over that span to "help ensure a continuous innovative product pipeline."

The company's current pipeline could generate sales approaching $6 billion between 2015 and 2020, with dozens more products in development in chemical and biological crop protection, seed traits and field crop and vegetable breeding programs.

Bayer also plans to invest at least $225 million in its digital farming systems between 2015 and 2020 as part of its broader sustainable agriculture efforts.

"It is not just a matter of increasing yields to feed more people, but also of ensuring environmental protection and safeguarding biodiversity," Condon said. "Innovation and sustainability have to go hand-in-hand for the benefit of consumers and the environment."

Bayer again increased its takeover bid for U.S. agrichemical giant Monsanto this week, and sources told The Wall Street Journal another increase could be on the way next week.