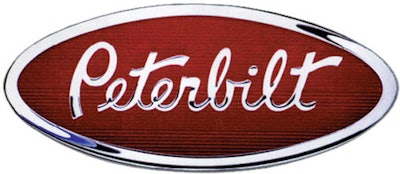 DETROIT (AP) — A heavy truck manufacturer has volunteered to recall more than 2,000 semis because they can travel at speeds greater than their tires can safely handle.
The move by Peterbilt in the U.S. and Canada raises questions about the safety of trucks still on U.S. roads that are equipped with as many as 10,000 of the same tires.
Peterbilt, part of Paccar Inc. of Bellevue, Washington, said it would recall the tractors from the 2009 to 2016 model years because they can go faster than 75 miles per hour, even though the maximum speed their Michelin tires can handle is 65 mph. The trucks are used mainly for hauling automobiles.
"A premature tire failure may occur on the front or steer axle" and could cause a crash, Peterbilt said in documents posted this week by the U.S. National Highway Traffic Safety Administration. Dealers will reprogram the trucks' computers so they can't go faster than 65 mph.
Peterbilt said that because auto haulers tend to push the limits of front-axle loads, it determined that the speed discrepancy is a safety defect and the trucks should be recalled.
NHTSA is encouraging other truck manufacturers with "similar risks" to take action to address them, but the agency has no formal investigation under way and hasn't requested further recalls, spokesman Gordon Trowbridge said. Michelin says its tires are safe and perform as designed.
The safety agency began investigating Michelin's 22.5-inch diameter XZA tires in October of 2014, finding 16 complaints, three crashes and two police crash reports involving alleged tire failures. One truck rolled onto its side in New Mexico, but no one was seriously hurt.
Investigators closed the probe in February after determining that the failures were caused by a road hazard, owners using the tires on the wrong-size rim, or a combination of violating tire load limits, letting the air pressure get too low or traveling at higher speeds than the tires can handle. During the investigation, Volvo Trucks issued a recall similar to Peterbilt's involving 115 trucks.
NHTSA investigators also blamed the tire failures on some states raising the speed limit for trucks above 75 mph — the maximum speed rating most truck tires can handle. Fourteen states allow trucks to go 75 mph or faster, even though tire makers say tires can blow out if they exceed that speed for a long period.
Federal agencies haven't had authority to set speed limits since 1995, when Congress repealed the national speed limit.
NHTSA has proposed a regulation limiting top speeds of big rigs nationwide to below 75 mph. A big trucking association and safety advocates have asked for a 68 mph limit.
But the regulation, first proposed in 2006, has been stalled for years in a morass of cost analyses and government reviews. It's been sitting at the White House Office of Budget and Management since May 18. The office wouldn't comment on the delay but said it works as fast as possible to review rules, and complex ones take longer.
Henry Jasny, senior vice president of Advocates for Highway and Auto Safety, one of the groups backing the regulation, said it's unusual for the management and budget office to hold a rule for longer than 90 days.