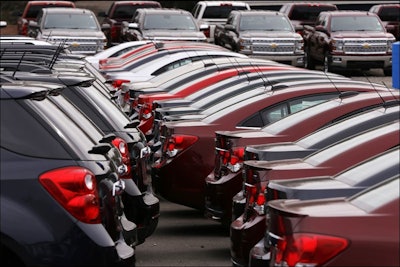 U.S. automakers reported modest domestic sales increases last month despite two fewer selling days and one less weekend than November 2014.

General Motors sales climbed 2 percent compared to the same month last year, led by a nearly 5 percent increase by its Chevrolet brand and a nearly 2 percent jump in Cadillac sales. Sales of GMC vehicles fell by nearly 2 percent, while Buick declined by more than 16 percent.

Fiat Chrysler, meanwhile, reported a 3 percent sales increase for its best November in 15 years, led by a 20 percent spike in Jeep sales. Chrysler and Dodge sales fell by 12 percent and 8 percent, respectively, while Fiat was down 3 percent. Sales of Ram trucks and vans increased by 1 percent.

Ford sales remained relatively flat with a 0.4 percent increase. The company's truck sales increases were offset by car and utility vehicle declines. Ford vehicle sales climbed by 0.6 percent, while its Lincoln brand fell by 2.4 percent.

Among top foreign automakers, Toyota sales increased by 3.4 percent, while Nissan sales climbed by 3.8 percent.

Toyota vehicle sales were up 2.8 percent, but a 6.8 percent jump in Lexus models bolstered the company's U.S. numbers. Nissan reported a 3.9 percent increase in sales of its cars with a 2.6 percent jump in its Infiniti division.

Honda, however, reported 5.2 percent fewer sales last month compared to November 2014. Honda vehicle sales fell by 3.5 percent, while the Acura division declined by more than 17 percent.

Combined, those six companies comprised more than 75 percent of the U.S. auto market in October, according to numbers from The Wall Street Journal.

Volkswagen sales, meanwhile, continued to slide last month in the wake of the German automaker's diesel emissions scandal.

VW officials attributed the nearly 25 percent decline to voluntary orders to stop the sale of vehicles affected by the controversy.

"Volkswagen is working tirelessly on an approved remedy for the affected TDI vehicles," said Mark McNabb, the company's U.S. COO.