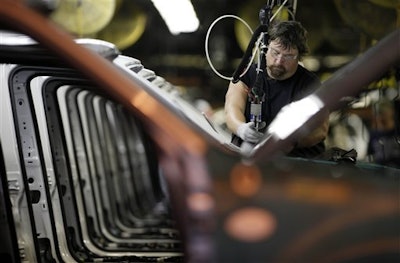 Ford Motor Co. has begun an eight-week closure of its Dearborn, Mich., F-150 pickup plant to overhaul it for a new, aluminum-bodied version of the top-selling vehicle line in the U.S.
"This is historic for the industry, not just for Ford," Joe Hinrichs, Ford's president of the Americas, told reporters Monday at the company's product development centre in Dearborn. "To take the No. 1 selling vehicle for 32 years - it will be 33 soon - and convert it like this, at this volume, to aluminum, is historic and unprecedented."
Michigan workers assembled their last 2014 F-150 early on Aug. 22 and crews began tearing up the plant to make way for the new equipment necessary to manufacture parts out of aluminum, Hinrichs said. By mid-October, the factory will be building the "production version" of the 2015 model, he said.
"This is a massive undertaking, one of the bigger logistical challenges we've ever seen," Hinrichs said.
The redesigned F-150 is the most critical new-model introduction for Ford in a year in which it is debuting 23 new products worldwide. Ford had net income of $2.3 billion (U.S.) in the first half of the year, compared with $2.84 billion in 2013's first half.
The F-150 arriving in showroom at year's end sheds more than 700 pounds (318 kilograms) to improve fuel economy, mostly by using aluminum instead of steel in its body. In 2013, Ford's U.S. F-Series sales rose 18 per cent to 763,402. That helped drive Ford's North American pretax profits to a record $8.78 billion last year.