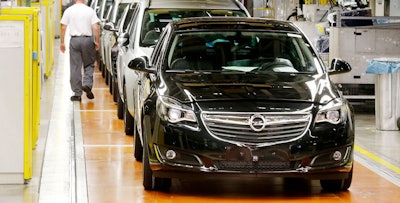 European automakers Opel and Vauxhall said Thursday they want to hold onto all of their current manufacturing sites and avoid forced layoffs as part of a turnaround plan under French owner PSA Group.
Speaking 100 days after General Motors sold Germany-based Opel and Britain's Vauxhall to PSA, managers outlined a blueprint that will see the company become profitable again by 2020 and electrify all of their passenger car lines by 2024.
"Status quo is no option," Opel/Vauxhall CEO Michael Lohscheller said, as he presented a plan that will also see the company reduce the number of platforms on which models will be based and push into as many as 20 new markets including Argentina, Saudi Arabia and Taiwan.
PSA Group chairman Carlos Tavares warned that the turnaround would only work if unions representing the 38,000-strong workforce agree to a number of cost-saving measures. These will include flexible working time arrangements, buyouts and early retirement schemes.
"Opel is facing a dramatic situation," Tavares said. "There is no time to waste."
Tavares noted that the company has been burning through its cash supply and lost a total of 19 billion euros ($22 billion) between 1999 and 2016. The combined market share in Europe currently stands at a modest 5.7 percent.
"This plan is not a gimmick plan," Tavares said, adding that the engineering and design capabilities acquired with Opel/Vauxhall would help PSA Group as a whole achieve the ambitious goal of sharply cutting its vehicles carbon emissions as required under national and international rules.
The European Commission proposed Wednesday that 30 percent of new vehicles on the continent should be electric-powered by 2030 and average emissions of carbon dioxide in new vehicles should fall by 30 percent by 2030 from 2021 levels — a target that some in Europe's auto industry have criticized as too high.