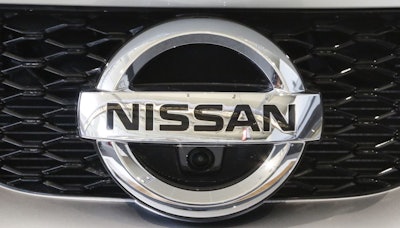 Japanese automaker Nissan Motor Co.'s fiscal second-quarter profit slipped 3 percent despite growing sales because of costs related to improper vehicle checks in Japan and a massive global air-bag recall in the U.S.
The news conference Wednesday announcing the results at the company's Yokohama, Japan headquarters was overshadowed by the scandal over systematic faulty inspections, which surfaced last month. The scandal has resulted in more than a million vehicles being recalled to be checked again in Japan, and has caused some production at all six Nissan plants in Japan to be halted.
Nissan Chief Executive Hiroto Saikawa again bowed deeply, apologizing to customers, dealers, partners and government authorities for the recent faulty inspections scandal.
Nissan has acknowledged unqualified people had been systematically carrying out vehicle checks. Adding to the embarrassment, the company acknowledged that, even after the scandal had surfaced, the dubious checks had continued.
Nissan, allied with Renault SA of France, reported Wednesday a July-September profit of 141.6 billion yen ($1.2 billion), down from 146.1 billion yen the same period last year.
Quarterly sales rose 8.5 percent to 2.89 trillion yen ($25.4 billion).
"We promise to do our utmost to win back people's trust," Saikawa told reporters.
He said production had resumed as of Wednesday at all plants in Japan after the tests had been corrected.
But the third-party investigation that is set to report to the Japanese government, which he had hoped would be ready, will not be completed until next week, he said.
When the report is completed, Saikawa said he hoped to explain to reporters what had been behind the long ongoing illegal tests.
The problem does not affect Nissan vehicles sold outside Japan. Nissan has acknowledged that not enough had been done to ensure inspection staff was aware of inspection requirements.
Also weighing on profit are litigation costs in the U.S. over Takata Corp. air-bag recalls. The auto industry has been rocked by the massive recall that involves some 100 million air-bag inflators worldwide. The defect has been linked to 19 deaths and dozens of injuries.
Takata was forced into bankruptcy amid lawsuits, multimillion-dollar fines and crushing air bag recall costs.
Nissan's Saikawa said order cancellations were coming in by the hundreds in Japan because of the scandal and the production stoppage.
He had been scheduled to outline the company's ambitious strategy over the next several years. But Saikawa barely glossed over the main points for that, appearing more focused on apologizing for the inspections scandal.