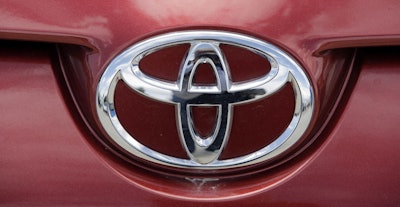 Toyota Motor Corp. reported Tuesday that it saw a 16 percent gain in fiscal second quarter profit as sales grew and a cheaper yen offset higher marketing costs.
Toyota, Japan's top automaker, said its July-September profit totaled 458.2 billion yen ($4 billion), up from 393.7 billion yen the same period last year. Quarterly sales grew 10 percent to 7.14 trillion yen ($62.7 billion).
Toyota, which makes the Camry sedan, Lexus luxury models and Prius hybrid, raised its annual profit forecast through March 2018, to 1.95 trillion yen ($17 billion) from the earlier 1.75 trillion yen ($15 billion).
That would be up 6 percent from 1.83 trillion yen it racked up the previous fiscal year.
Toyota is crediting cost cuts and a cheaper yen, which helps lift earnings for Japanese exporters.
Toyota said it is expecting an exchange rate of 111 yen to the dollar this fiscal year, up from 108 yen the previous fiscal year.
The effects of foreign exchange rates added 135 billion yen ($1.2 billion) to quarterly operating profit, while cost reduction efforts added another 50 billion yen ($439 million). That was enough to offset marketing costs at 130 billion yen ($1.1 billion) for the quarter.
Toyota said it now expects to sell 8.95 million vehicles for the fiscal year, up from an earlier projection for 8.9 million vehicles. That would still fall short of the 8.97 million vehicles sold the previous fiscal year.
Toyota's RAV4 sport-utility vehicle and Camry sedan were selling well in the U.S. market, while its hybrid models continued to be popular in Japan.
Toyota is planning to build a new plant in the U.S., which will be run with another Japanese automaker Mazda Motor Corp., although its site has not yet been announced.
The plan comes at a time when Japan is facing pressure from President Donald Trump's administration to reduce the bilateral trade imbalance and move production to the U.S. and create jobs there.
Trump is now visiting Asia, and he left Japan and arrived in South Korea on Tuesday.