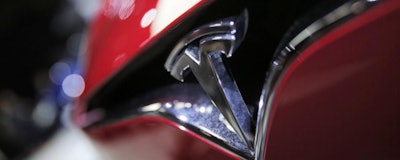 Tesla plans to unveil its new semi-truck during an event at its Hawthorne, Calif., headquarters late next month, chief executive Elon Musk wrote on Twitter last week.

The ceremony is about a month later than previously expected, but Musk boasted that the unveiling and "test ride" would be worth the wait.

"Worth seeing this beast in person," he wrote. "It's unreal."
The electric vehicle maker announced its semi-truck ambitions in 2016 as part of a move beyond consumer vehicles.

Last month, reports surfaced that company officials had discussed road tests of autonomous semi-trucks with transportation authorities in California and Nevada.

Industry observers believe that trucking, with its consistent highway speeds and limited cross-traffic, could incorporate self-driving systems more easily than the broader auto market.

Tesla is reportedly pursuing a "platoon" system in which driverless trucks closely following a lead vehicle.