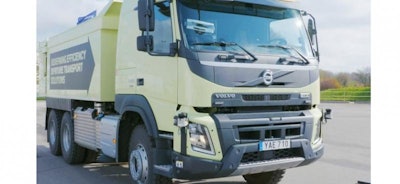 Volvo will put a self-driving truck through its paces soon, the company announced on Monday.
This truck isn't destined for the road per se: instead it's designed for the mining industry, and so its sensors are intended to navigate both above and below ground. GPS and on-board LiDAR detect both "fixed and movable" obstacles around it. It's intended to be one link in a chain of a mining company's transport solutions, and to do its work entirely autonomously.
It was developed through a partnership with Saab's wholly-owned company Combitech, which focuses on technical consulting for primarily the security and defense industries.
"The Volvo Group has been conducting research into autonomous vehicles for several years and we are delighted to have already developed a solution that we believe will ultimately revolutionize the mining industry," said Torbjörn Holmström, member of Volvo's Group Executive Board and Chief Technology Officer in a press release. "We expect to be able to significantly increase our customers' productivity while at the same time improving fuel efficiency and safety."
The same type of sensors that are used in the autonomous truck are already used in Volvo cars' active safety systems.
"Automation is an exciting field of technology where advances are moving quickly. Solutions already exist and we expect to see more autonomous solutions in the future," said Volvo President and CEO Martin Lundstedt.
Volvo also set three self-driving trucks loose on the roads in Europe in April, which navigated in reference to one another using wireless communication.