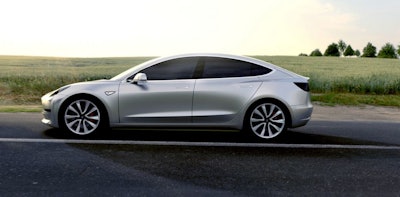 On Thursday, exactly a week since CEO Elon Musk unveiled the Model 3, Tesla Motors announced that it has received more than 325,000 reservations for the electric car maker's first mass-market vehicle.
According to Tesla, if it sells every car that's been reserved, then it will earn enough to make the Model 3 the "single biggest one-week launch of any product ever."
Even if preorder interest begins to stall (which it looks like it won't), the number of preorders (as they stand now) corresponds to "$14 billion in implied future sales."
Only three days following the Model 3's debut, Tesla had already received around 276,000 preorders — a number that Musk said greatly exceeded Tesla's estimated preorder interest.
"No one at Tesla thought it would be this high before part 2 of the unveil," Musk said via Twitter.
Customers had to put $1,000 down to make a reservation on the $35,000 electric Model 3.
All reservations for the Model 3 are also refundable until the car goes into production — something that won't happen until 2017.
Of course, that's also assuming Tesla can balance the increasing demand with the actual production of the Model 3.
Regardless, the unprecedented demand for and interest generated around the Model 3 is a huge win for the electric car maker, especially as Tesla continues to court the mainstream market.
Do you think Tesla is well on its way toward making electric vehicles more mainstream? What do you think about the tremendous fanfare surrounding the Model 3 debut?
Comment below or tweet me @AbbDean.