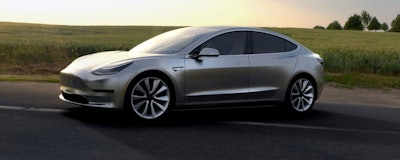 Tesla pulled back the curtain on its Model 3 and began preorders for the more affordable electric vehicle starting at $35,000 — before federal and state government incentives. The Model 3 has a range of at least 200 miles when fully charged and can go 0 to 60 in less than 6 seconds.
As of late Saturday, Tesla had received 276,000 pre-orders, all requiring a $1,000 deposit. Musk wrote that the average selling price with options was likely about $42,000, which, if you're doing the math, would equate to more than $11.5 billion in sales through Saturday alone. Considering that Tesla delivered a grand total of 107,000 cars in the past four years combined, the company's decision to add a more "affordable" model to its lineup appears to have already paid off.
Deliveries are expected to start in late 2017 at the earliest, but Tesla has yet to show how it can ramp up production to the scale needed to meet demand.
This chart compares the number of pre-orders Tesla received for the new Model 3 to the company's cumulative vehicle deliveries between 2012 and 2015.