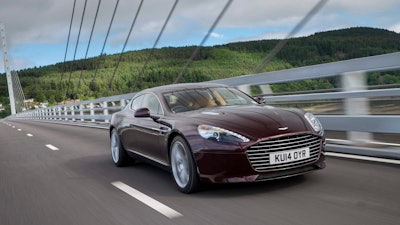 Aston Martin on Wednesday announced an agreement to develop a car with secretive electric vehicle maker Faraday Future.

The British luxury automaker signed the memorandum of understanding with LeEco — the Chinese firm behind Faraday Future formerly known as LeTV — in Germany.

The companies plan to develop Aston Martin's RapidE electric vehicle concept car for the commercial market in 2018, and the partnership could add more connected electric vehicles in the latter half of the decade.

"We have been encouraged by the project speed and technical depth shown by LeTV in the development of the RapidE concept towards full production," said Aston Martin CEO Andy Palmer. "Bringing the RapidE to market by 2018 is an important milestone for both companies."

The partnership between the two automakers previously incorporated LeTV's connected vehicle system into the Aston Martin Rapide S, and the companies continue to collaborate on battery systems and powertrains for low-emissions vehicles.
LeEco officials, meanwhile, eventually hope to build cars with "premium qualities and delicate arts and crafts as good as those of Aston Martin."

Faraday Future plans to build a massive plant near Las Vegas and unveiled a prototype sports car earlier this year.

Further details about the company's commercial plans, however, remain scarce.

A Nevada official planned to pay a visit to the company after LeTV stopped trading on the Chinese stock market for months. The state backed $335 million in tax incentives to bring the company to North Las Vegas.

Skeptics, meanwhile, questioned whether the deal would ultimately pay off.

"It's not actually clear that Faraday can deliver," David Bailey of Aston University told the BBC.