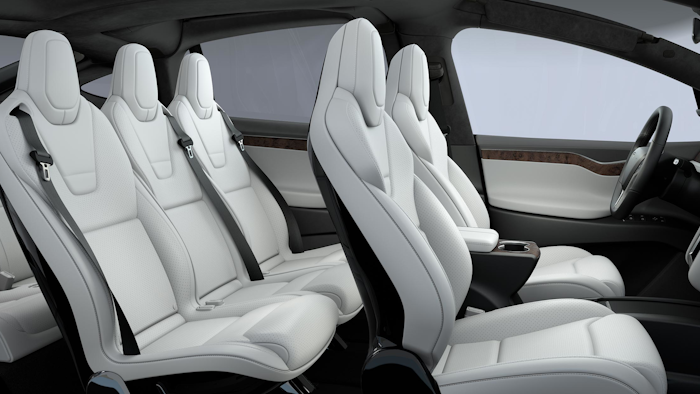 According to a report from the New York Times, Tesla is now offering a synthetic, vegan leather option for its sporty Model X SUV.
Tesla is calling this vegan-friendly, higher-end option the "Ultra White."
At an annual meeting this past June, the People for the Ethical Treatment of Animals (a Tesla shareholder) urged CEO Elon Musk to consider a vegan leather option for its car interiors.
According to a release from PETA, the group continued to work with Tesla in developing this option for the Tesla's already eco-conscious customers.
In an interview with a Tesla spokesperson, Business Insider asked Tesla for a response to PETA's release.
"The timing of this press release is a mystery to us," said the company spokesperson. "We have always offered our customers non-leather options for their Teslas."
When reached again for comment by Business Insider, PETA clarified that Tesla had only previously offered a synthetic cloth interior at a lower level than the faux leather now offered.  
So, while Tesla did indeed always offer a vegan interior option, the new "Ultra White" faux leather (seemingly prompted from PETA) allows a higher-quality interior option for Model X owners.
Automakers across the industry (including BMW, Lexus and Ferrari) have also felt pressure to offer what the New York Times termed a "sustainable luxe" to their eco-conscious consumers.
Do you think a push in sustainability throughout the automotive industry will extend beyond energy efficiency? Could vegan leather become a new standard for the more eco-conscious customer?
Comment below or tweet me @MNetAbbey.