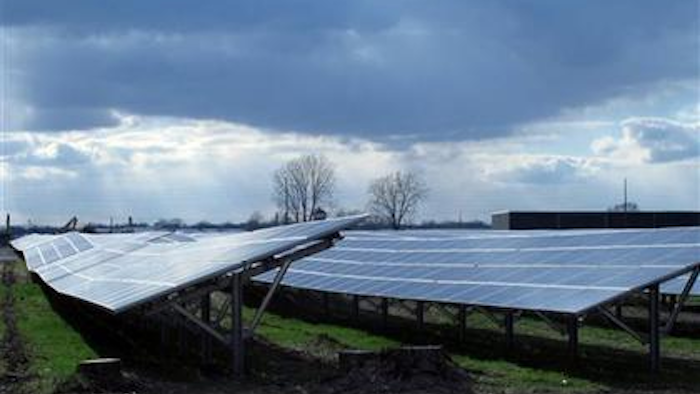 Check out some of this week's top headlines from across Manufacturing.net, from the largest U.S. solar farm built on a Superfund site to the UAW's impact on Volkswagen's new SUV.
Largest U.S. Solar Farm On Superfund Site Is Online
INDIANAPOLIS (AP) -- The nation's largest solar farm built atop a federal Superfund site is now generating power on a tract of land in Indianapolis tainted by a long-shuttered plant's wood-treating operations.
The 43-acre Maywood Solar Farm went online last month, with more than 36,000 solar panels feeding 8 megawatts of electricity into Indianapolis Power & Light's power grid.
The solar farm is the largest built to date on a Superfund site, said Environmental Protection Agency spokesman Francisco Arcaute. The next largest is a 40-acre, 6-megawatt solar farm near Rancho Cordova, Calif. Continue reading...
---
Is 'Low-Cost' Manufacturing Headed To The U.S. Next?
A recent survey from Entrada Group titled "Where in the World?" posits a rather interesting conclusion: the U.S. is now considered the prime location for low-cost manufacturing, with Mexico a close second, and China — once the mecca of cheaply-produced goods — falling behind. It's a far cry from the trends over the last few decades, in which American consumers saw many of their most commonly-bought items tagged with a "Made in China" label, and in which we lost a great deal of manufacturing jobs as a nation. And because it's a rather extraordinary claim, it deserves a little more examination.
The survey was conducted between the end of 2013 and through the first quarter of 2014, and consisted mostly of respondents who work at companies in mature markets: U.S. (73 percent), Canada (14 percent) and Europe (8 percent). 62 percent of respondents are VP-level executives or higher, and 95 percent lead companies that manufacture for the North American market. Essentially, a very good cross-section for offering wisdom about the efficacy of manufacturing in North America versus abroad — whether that be China or another "low-cost" market. Continue reading...
---
Lawyer: Volkswagen Has Deals In Place Outside Tenn.
NASHVILLE, Tenn. (AP) -- Volkswagen warned Tennessee officials during difficult negotiations over incentives to expand the German automaker's lone U.S. plant that the company has already secured offers to build a new SUV elsewhere.
Volkswagen attorney Alex Leath said in a Jan. 27 email to the state Department of Economic and Community Development that the Volkswagen board would be presented options to build the new vehicle at the Chattanooga plant and or "alternative sites outside of Tennessee."
Tennessee's $300-million incentive offer to expand the plant has been complicated by Republican politicians' opposition to the United Auto Workers campaign to unionize workers there. Continue reading...
---
UAW Withdraws Volkswagen Vote Appeal
NASHVILLE, Tenn. (AP) -- The United Auto Workers announced Monday it is withdrawing an appeal of the outcome of a union vote at Volkswagen's assembly plant in Tennessee.
In a statement released one hour before the scheduled start of a National Labor Relations Board hearing in Chattanooga, Tenn., UAW President Bob King said the union decided to put the "tainted election in the rearview mirror" because the challenge could have taken months or even years to come to a conclusion.
The UAW had filed its appeal with the National Labor Relations Board after Volkswagen workers rejected the union in a 712-626 vote in February, arguing that public statements from U.S. Sen. Bob Corker, Tennessee Gov. Bill Haslam and other GOP officials raised fears about the plant's future if workers there organized. Continue reading...
---
Wyoming Town Evacuated After Gas Explosion
OPAL, Wyo. (AP) -- Residents and emergency crews were waiting for a fire to burn itself out after an explosion at a natural gas processing plant in a small town in southwestern Wyoming.
No injuries were reported in the explosion Wednesday in Opal, a town of about 95 people about 100 miles northeast of Salt Lake City. All of Opal was evacuated.
Gas from the plant serves a huge number of customers across the West and as far east as Ohio, but the explosion came between the winter heating and summer cooling seasons, when demand is lower, officials said. Continue reading...
Every Friday, we will be rounding up the most popular news items of the week based on site traffic. Feel free to share your thoughts, questions or concerns by sending an email to amy.lawrence@advantagemedia.com.