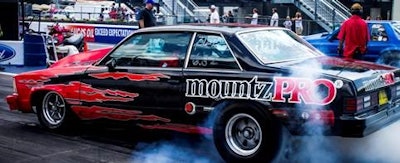 With so many torque wrenches on the market, is it possible to build a better one? MountzPro has proven that it is.
MountzPro, a new division of the nearly 50-year-old Mountz Torque in San Jose, Calif., has brought to market two innovative automotive torque wrenches designed to address shortcomings in the typical torque wrench. One of them, the MountzPro True Dual Scale Torque, won a coveted Pro Tool Innovation Award from Pro Tool Reviews in December 2013.
The MountzPro True Dual Scale Torque Wrench is distinguished by calibration and usability in both SAE and metric scales. Whereas most wrenches are calibrated in one unit of measurement, the primary scale—with the other unit of measurement only a reference—the patented MountzPro wrench eliminates mathematical conversions, hassle and imprecision. As Pro Tool Reviews put it: "If you care about accuracy and want a torque wrench that is certified in both metric and SAE scales, then MountzPro's unique True Dual Scale Torque Wrench is a great product."
MountzPro (www.mountzpro.com), focused exclusively on the automotive professionals market, also makes the MountzPro Digital Flex Head Torque Wrench, enabling technicians to easily pre-set torque values for various fastening applications, providing real-time values and audio, visual and vibration alerts. Like the dual scale wrench, the product reflects the MountzPro philosophy of "fastening made easy."
Business Flexibility for Innovation
Several factors have been instrumental in driving innovation at MountzPro, launched in 2011. One, it leverages Mountz Torque's decades of experience in delivering ISO accredited torque tool solutions for manufacturing and industrial applications, including aerospace, electronics, energy, medical, packaging and more.

Two, the company's move into the automotive aftermarket was inspired by a passion for auto racing and maintenance on the part of Brad Mountz, company founder and president, and other team members. MountzPro sponsors a drag racing team, an online car show and collaborated with automotive technicians on what they needed in a torque wrench.
"While the market is highly saturated and price dependent, we felt we could be successful by interviewing customers on what they need, and what they want is what we develop and bring to market," Mountz said. "With the dual scale wrench, the concern of customers was that they had wrenches claiming to be dual scale, but they really weren't—they could only use them in one scale."
Thirdly, Mountz Torque had the flexibility to easily launch a new line of business thanks to its back-end software platform. The company runs its financials, manufacturing, inventory, distribution, customer relationship management (CRM) and other core processes "in the cloud," meaning the software vendor manages the core infrastructure – servers, databases, the entire data center – and employees at Mountz Torque access the software via a web browser. With cloud software, upgrades are handled automatically by the vendor, a far cry from the traditional model where IT staff at the company had to reload the software and make sure any changes or customizations didn't break.
The savings in IT personnel and hardware amount to over $100,000 a year, Brad Mountz estimates. That frees resources to focus on R&D, improve customer service and expand into new lines of business. It's also helped Mountz Torque fuel double-digit growth and open a third line of business, Mr. Metric, supplying metric fasteners, through a 2010 acquisition.
Mountz was among the pioneers in adopting cloud enterprise resource planning (ERP), going live on the cloud solution a decade ago. Since then, usage of cloud software (also called Software as a Service, or SaaS) has skyrocketed. The research firm Gartner estimates that the SaaS market will grow at a compound annual rate of 19.5 percent, reaching $32.8 billion globally in 2016.
Acceleration Towards the Cloud
As it has in other industries, cloud computing is reshaping the automotive market. For example, on-board diagnostics can connect to cloud systems that monitor vehicle metrics and location and supply troubleshooting and fixes. Many training courses taken by automotive professionals are hosted in the cloud and accessed over the web. And though a recent automotive aftermarket survey found that 46 percent of service technicians don't use computers in the shop bay, that's changing as the value of online information from the cloud becomes more apparent.
As a business platform, cloud-based software is opening new opportunities for aftermarket manufacturers, auto parts distributors and retailers, service and repair businesses and others to reduce IT and operational costs. These cloud adopters are also optimizing inventory, speeding vital processes, increasing sales, and building repeat business and customer loyalty.
Pep Boys and AutoZone are among leading automotive companies to have adopted cloud technology, for HR and data analysis, respectively, according to news reports. Pep Boys also runs cloud-based budgeting and planning software from Adaptive Planning for better budgeting across multiple divisions and more than 700 stores.
For its part, Mountz and its divisions are gaining critical efficiency and visibility with cloud ERP that works off a single, integrated data set that updates in real time. That's a huge advantage over the conventional approach of using disparate in-house applications that require time-consuming manual data re-entry for sales orders, purchase orders, invoicing and updates to inventory and customer records.
Mountz is familiar with the pain of standalone applications. Before implementing its cloud business management software, the 70-person company ran a collection of applications, including Microsoft Dynamics Great Plains (GP) for ERP, Peachtree for accounting and GoldMine for CRM. It used to take Mountz four hours to create a complex purchase order—now, the same process takes less than 30 minutes.
"I became really frustrated with the inopportune times that very expensive licenses came up, or servers and drives failed," Brad Mountz said. "Not only that, we had six people on the team who didn't know anything about torque wrenches, but knew everything about databases and computer programming. They didn't add value to the organization."
Eliminating Bottlenecks and Overhead
Today, the cohesive platform gives Mountz personnel at San Jose headquarters and offices in Alabama, Canada and Mexico a "single voice" with real-time data updated across all major business functions. The system helps streamline production processes, while www.mrmetric.com uses an integrated web storefront for ecommerce sales.
Additionally, the Mountz sales force has a single view of customers and prospects, improving sales effectiveness and customer service. Mountz no longer struggles with data backups or the risk of server downtime, while the platform's predictable pricing model eliminates unforeseen IT expenses.
"We have better planning, budgeting and control over supply chain processes," Brad Mountz said. "We have eliminated bottlenecks and improved delivery with less overhead. We eliminated the non-productive assets and redistributed that cash flow toward assets that would re-emphasize growth of our business."
Greg Smith Equipment Sales in Indianapolis is another automotive company to run its business smarter and faster on the same cloud business management suite. A distributor of lift equipment, tire changers, wheel balancers and alignment machines with stores in seven states, Greg Smith Equipment has reduced its order-to-cash cycle times by 25 percent, shipping costs by 10 percent and customer response times by 75 percent.
Those sorts of improvements lead directly to competitive advantage. In an automotive market of intense competition and low margins, forward-looking companies are rethinking the software and systems they use to run their businesses. As Mountz and thousands of other companies will attest, cloud-based software is a proven fast-track to sustainable business success.
---
Ranga Bodla is Senior Director of Industry Marketing at NetSuite, the world's leading provider of cloud business management software covering ERP / financials, inventory, manufacturing, CRM and ecommerce. More than 16,000 companies and subsidiaries rely on NetSuite to run mission-critical business processes in the cloud.