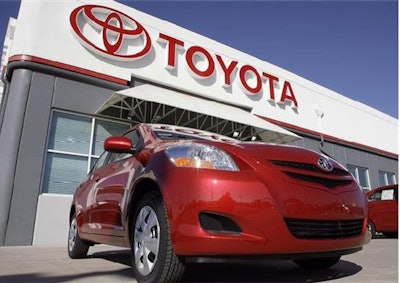 TOKYO (AP) -- Toyota kept its position at the top in global vehicle sales for the first quarter of this year, outpacing rivals General Motors and Volkswagen.
Toyota Motor Corp. said Wednesday that it sold a record 2.583 million vehicles in the January-March period, putting the Japanese automaker ahead of Detroit-based GM at 2.42 million and Volkswagen of Germany at 2.4 million.
Toyota's first quarter sales rose by more than 6 percent from the same period the previous year. GM's sales grew 2 percent, while Volkswagen's added nearly 6 percent.
Toyota finished first last year with a record 9.98 million vehicles in sales, remaining the top-selling automaker for a second year in a row. General Motors Co. finished second and VW third.
Toyota is targeting sales of more than 10 million vehicles this year. No automaker has sold that many in a year. Toyota officials say being No. 1 is not that important, and they want to be No. 1 in customer satisfaction.
But competition is intense among all the world's automakers, and clinching the top-selling automaker crown is not taken lightly.
By region, Toyota's first quarter sales grew in Japan as consumers rushed to buy ahead of a rise in the sales tax, which kicked in April 1. Its sales also grew in the rest of Asia, the Middle East, South America and Africa, according to Toyota.
General Motors had been the No. 1 selling automaker for more than seven decades before losing the title to Toyota in 2008.
GM retook the sales crown in 2011, when Toyota's production was hurt by the quake and tsunami in northeastern Japan. But the maker of the Prius hybrid, Camry sedan and Lexus luxury model made a comeback in 2012, and kept that lead in 2013.
GM's image has taken a hit after a February recall of 2.6 million vehicles for defective ignition switches, a defect the company tied to 13 deaths.
GM and the U.S. government are investigating why it took the company more than a decade to recall the cars after engineers first learned of the switch problems.
Toyota also underwent a massive recall debacle in the U.S., announcing recall after recall starting in 2009. It paid a $1.2 billion earlier this year to settle a U.S. Justice Department investigation into charges of covering up problems that caused unintended acceleration in some cars.
From 2010 through 2012, Toyota paid fines totaling more than $66 million for delays in reporting safety problems. Toyota agreed last year to pay more than $1 billion to owners of its cars who claimed to have suffered economic losses because of the recalls. The company still faces wrongful death and injury lawsuits.
Volkswagen is growing so quickly in China and other relatively new markets it is close on the heels of its two longtime rivals.