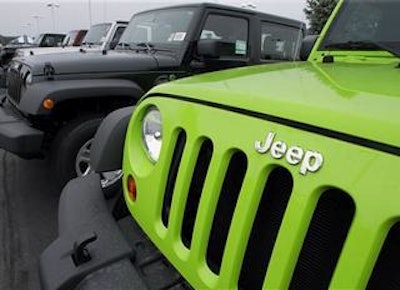 ROME (AP) -- Fiat and Chrysler announced plans Saturday to build three new Jeep models in China for that market, the biggest for the vehicles outside the United States, as they attempt to boost sales in a country where they lag behind their competitors.
The automakers said they will expand their joint venture with China's Guangzhou Automobile Group Co. Ltd., and increase the portfolio of Jeeps, which are currently imported to China.
Production is expected to start in late 2015 in Guangzhou, the companies said in a statement, adding that they are considering a Jeep model "uniquely designed for China."
Chrysler Group LLC spokesman Gualberto Ranieri declined to provide details on that model. He said in an email that more information will be announced at an "appropriate time."
Fiat and Chrysler CEO Sergio Marchionne, who plans to complete the legal merger of Fiat and Chrysler by the end of the year, said in the statement that the deal represents the next phase in the "expansion on a global scale of the Jeep brand."
The joint venture involving Chrysler, Fiat and Guangzhou Automotive makes the Fiat Viaggio in China, but no Jeeps are currently produced there.
China represents the largest Jeep market outside the U.S. with nearly 60,000 vehicles sold last year. Ranieri said the Jeeps that will be made in China would be sold only in that country.
Fiat and Chrysler were expected to try to increase sales in that high-growth market. Executives with Chrysler's Jeep brand said as far back as the start of 2013 that they were in talks to build some vehicles in China for that market. They said the Jeep Wrangler would always be built in the United States, but there were opportunities among other models.
During the 2012 presidential campaign, Republican candidate Mitt Romney came under criticism for an ad that said Chrysler would build Jeeps in China — insinuating that U.S. jobs might suffer. That brought the 2009 government bailout of General Motors and Chrysler to the forefront in the days ahead of the election.
The claims were criticized for being misleading, since automakers were adding production facilities in China to meet rising demand there. Because of trade rules, it's easier for companies to build cars for the Chinese market in China.