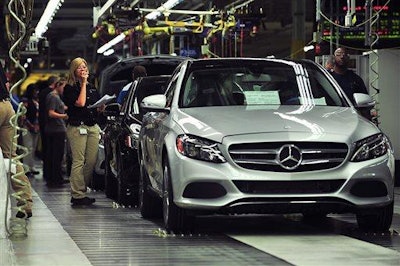 The United Auto Workers is ramping up its efforts to gain representation of workers at the Mercedes plant in Alabama, despite having so far been thwarted in its attempts to organize any foreign automaker in the South.
The UAW has, though, been gaining support from powerful labor representatives who serve on the supervisory boards of German automakers like Mercedes parent Daimler and Volkswagen.
Michael Brecht, who heads Daimler's works councils and serves as deputy chairman of the board, was scheduled to appear at a news conference Friday in Tuscaloosa with UAW President Dennis Williams to speak about their joint efforts to get the company to recognize the union there.
Brecht in a recent interview with The Associated Press questioned why the Mercedes plant in Alabama should stand alone among the company's factories around the world without union representation for its workers. He said the company has been cooperating with labor officials to establish a union at a plant in India, but has resisted a similar move in Alabama.
"It is unacceptable to me how the company is acting here," Brecht said.
Daimler CEO Dieter Zetsche told reporters during a recent plant visit in Alabama that the company already has relationships with the UAW at its truck-making subsidiaries. He said the company pledges neutrality on union issues at the plant and that he sees "no surprises or major tensions" over the issue with labor representatives on the board.
"That's for our employees to make their call and to take their vote," Zetsche said. "And in this regard, the team here in Tuscaloosa has decided for the last 20 years not to organize with the UAW or any other union."
The UAW is also working to represent workers at the Volkswagen plant in Chattanooga, Tennessee, where the union in February lost an election at the plant by a 712-to-626 vote following a contentious campaign waged by supporters and opponents of organized labor. UAW Secretary-Treasurer Gary Casteel has since announced the formation of a new local in Chattanooga, and said he expects Volkswagen to recognize the union without another vote once it signs up enough workers.
Brecht said his impression from Daimler managers is that it's unlikely they would recognize a union at the Mercedes plant in Alabama without a secret ballot.
The organization of foreign automakers in the South is seen as crucial to the survival of the UAW, where collected dues dropped 40 percent between 2006 and 2012 as the union's ranks fell by 30 percent.
For the UAW, dues won't rise by much without an influx of fresh recruits in the South, where most of the auto industry's growth is occurring. And the union's best chance at success appears to lie with automakers like Volkswagen, Mercedes and BMW, because of German legal requirements that half of their supervisory boards are made up worker representatives, who can put pressure for more labor-friendly policies.