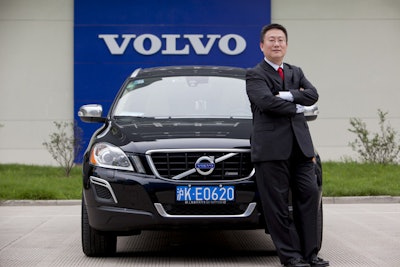 The Chinese auto market is the largest in the world, but most of the country's autos are foreign – according to TIME, "More Chinese drive a Ford, Volkswagen or Nissan than a Chery, Dongfeng or Great Wall. And as buyers become more affluent, domestic marques are shunned even more."
Back in 2010, Ford sold Swedish carmaker, Volvo, to a Chinese company known as Geely, and only now, is the company hitting the Chinese market with its first vehicle to be rid of Ford tech, the XC90. According to TIME, Geely has already invested $11 billion in the development process that the company hopes will bring about a renewed Volvo fleet by 2020.
Bin Zhu, a China forecast-team manager at consultancy LMC Automotive, tells TIME, "Volvo needed a lot of investment to develop new technology, while Geely had money but no strong development team."
Geely now seems to have a good foothold in the right place, as Volvos have been known as mid-level vehicles that have flair like luxury cars but retain some practicality. China's luxury auto market has been called a gem, but not for domestic manufacturers – it's mostly German; Audi, BMW, and Mercedes. In fact, these three dominate 75% of the Chinese luxury market.
The company looks to be putting its hopes on an expanding domestic market in China by slipping past the Chinese-manufactured stigma that resonates in the country.
In this sense, Geely (and the XC90) could be single-handedly saving Chinese auto manufacturing. Bin also says, "If Volvo is successful, it will have a great significance on Chinese automakers. It could boost their confidence and set an example for the whole industry."
Will Volvo push domestic Chinese auto manufacturing over foreign competitors? Is there a lesson here for American manufacturers? Comment below or email chris.fox@advantagemedia.com.