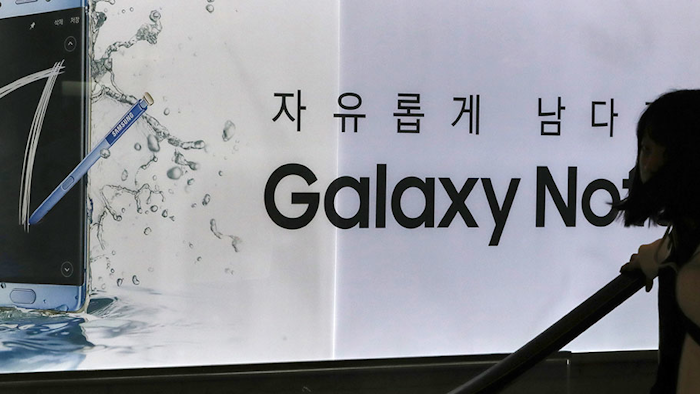 SEOUL, South Korea (AP) — South Korea's third-quarter growth slipped to its lowest level in more than a year in the first indication of the growing impact of Samsung Galaxy Note 7 recalls on the broader economy.
The Bank of Korea, the central bank, said in a preliminary estimate Tuesday that Asia's fourth-largest economy expanded 2.7 percent during the July-September quarter over a year earlier, the slowest pace since the second quarter of 2015.
The economy grew 0.7 percent on a quarterly basis. Quarterly growth has not topped 1 percent during 2016.
Manufacturing fell 1 percent from a year earlier in July-September, compared with a 1.2 percent gain in the second quarter. That was the biggest drop in more than five years.
The full impact of the recalls of 2.5 million potentially fire-prone Note 7s is likely to be seen in coming months. The premier smartphones were launched in late August and recalled in September. Samsung discontinued the product after finding that replacement phones it was providing customers also were a fire hazard.
Production, exports and consumption of handsets suffered "a big impact" from Samsung's recalls, Bank of Korea official Lee Kwan-kyo said. He said the exact size of the impact was not clear from the preliminary data.
A strike at Hyundai Motors likely also contributed to a weakening in industrial output, Lee said.
Given South Korea's reliance on Samsung for exports and investments, the recall is a source of concerns for top economic policymakers.
South Korea's finance minister Yoo Il-ho said last week that the government will take measures to ensure that the losses from individual companies do not spread to the broader economy. He said a negative effect was expected on production and exports of handsets and cars, two pillars of South Korean economy, due to the recalls and the strike.