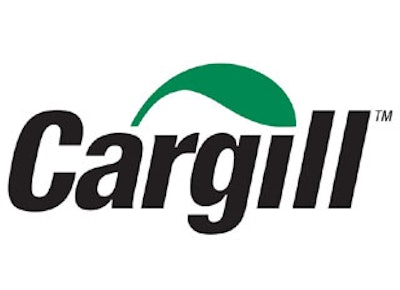 MINNEAPOLIS (AP) — Cargill said Wednesday that its fiscal second-quarter net income quadrupled, as most of its businesses posted gains.
For the quarter ended Nov. 30, the privately held agribusiness company said it earned $409 million, up from $100 million in the same quarter last year. Revenue rose 6 percent to $35.2 billion.
Earnings rose at four of the company's five business segments, with the origination and processing segment posting the largest contributions, helped by strong global markets and improved oilseed processing profitability.
The company's agricultural services division also got a boost from improved operational results at its animal nutrition business.
The risk management and financial segment was profitable after a loss a year ago attributed to debt turmoil in the U.S. and Europe. Cargill said earnings rose in its industrial segment although deicing salt production volume lagged typical levels because there was inventory left over after last year's mild North American winter.
But profits at the company's food ingredients and applications segment fell slightly from year-ago levels, mainly as a result of excess capacity in the North American ethanol market and the return of profits in some product lines to more normal levels, Cargill said.