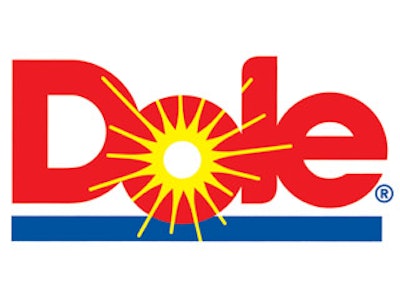 WESTLAKE VILLAGE, Calif. (AP) — Dole Food Co. anticipates completing the approximately $1.7 billion sale of its worldwide packaged foods and Asia fresh produce businesses to Japanese trading company Itochu Corp. early this year.
But the food company also cautioned that earnings from its fresh fruit business continue to drop due to weak economic conditions and rising banana prices in Asia due to Typhoon Bopha in early December. The typhoon has yet to impact banana prices in North America and Europe, Dole said.
Dole's packaged foods business includes products ranging from canned and frozen fruit to bagged salads.
Shares of Dole fell $1.69, or 14.7 percent, to $9.78 in morning trading. The stock has traded in a 52-week range of $8.02 to $15.19.
The deal with Itochu, which was announced in September, still needs regulatory approval from China. Dole said it has already received regulatory clearance from the other six countries who reviewed it.
Itochu, founded more than 150 years ago, is one of five huge Japanese trading houses whose reach extends into practically every industry, from mining and oil to consumer goods and foods.
The deal will leave Dole with fresh fruit and vegetable operations.
Dole said Wednesday that it "finalizing written commitments" from four banks for a new $400 million term loan. It said that loan coupled with mostly all the proceeds from the sale to Itochu will allow it to pay off its approximately $1.7 billion of existing debt as well as to fund other expenses and items.