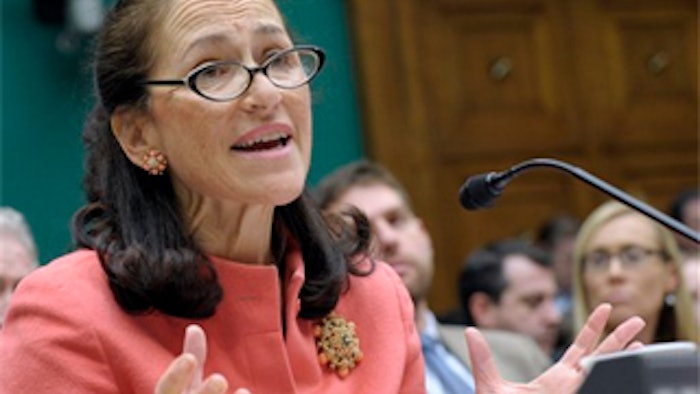 WASHINGTON (AP) — Fewer food safety inspections and an increased risk to consumers will result from the lack of a new 2013 budget from Congress and the upcoming across-the-board spending cuts, Food and Drug Administration Commissioner Margaret Hamburg said Thursday.
The cuts are scheduled to take effect Friday unless the White House and Congress can come to a budget agreement. The reduced inspections and budget cuts could delay a new food safety law which requires the agency to boost inspections and directs farms and food facilities to ensure their food is safe.
The FDA has said the so-called sequestration cuts will mean 2,100 fewer food safety inspections this year, though Hamburg said in an interview with The Associated Press that the number is an estimate. She said most of the effects wouldn't be felt for a while, and the agency won't have to furlough workers.
Still, she said, "We're going to be struggling with how to really grapple with the cuts of sequestration ... clearly we will be able to provide less of the oversight functions and we won't be able to broaden our reach to new facilities either, so inevitably that increases risk."
Hamburg and Michael Taylor, FDA's deputy commissioner for foods, said in a joint interview that the agency is trying to figure out ways to save money as they try to put the law in place, including experimenting with ways to do food safety inspections in shorter periods of time. Hamburg said the FDA is holding out hope that they can get the food industry to pay some user fees, an idea the industry has previously rejected and was left out of the final food safety law enacted two years ago.
"We are guardedly optimistic that we will continue, even in this fiscal budget climate, to get some enhanced resources to continue to expand and to move toward the goals of the program," Hamburg said of food safety.
The Obama administration had hoped for more dollars to carry out the law, which would boost the inspections and training for inspectors, require farms and food companies to create detailed food safety plans and create a new system for inspecting imported foods. But Congress did not pass a new budget last year and funding has remained stagnant.
The across-the-board cuts will also affect meat inspection, which is administered by the Agriculture Department. USDA has said inspectors could be furloughed for up to 15 days, meaning meatpacking plants would have to intermittently shut down. Government inspectors must be present for a meatpacking plant to operate.
The White House has said this could mean less meat in grocery stores and higher prices.