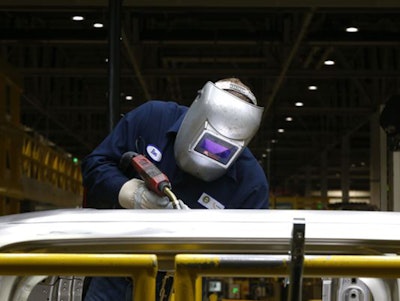 The productivity of American workers fell in the first quarter by the sharpest amount in a year, while labor costs increased.
Productivity declined at an annual rate of 0.6 percent in the January-March quarter after rising at a 1.8 percent rate in the fourth quarter, the Labor Department reported Thursday. It was the biggest decline since a 0.7 percent rate of decline in the first quarter of last year.
Labor costs rose at a 3 percent rate, up from a 1.3 percent rate of increase in the fourth quarter.
Productivity, the amount of output per hour of work, has been weak through most of the current recovery. Many analysts believe it is the biggest economic challenge facing the country, but there is no consensus on the cause of the slowdown.
The weak performance for productivity had been expected given that overall output, as measured by the gross domestic product, slowed to a weak annual gain of just 0.7 percent in the first quarter. It was the slowest performance in three years.
Productivity gains have been anemic for the past decade. Since 2007, increases have averaged just 1.2 percent. That's less than half the 2.6 percent average annual gains turned in from 2000 to 2007, when the country was benefiting from increased efficiency from greater integration of computers and the internet into the workplace.
Rising productivity means increased output for each hour of work, which allows employers to boost wages without triggering higher inflation. Federal Reserve Chair Janet Yellen has pointed to the slowdown in productivity as a key challenge facing the country.
The effort to boost productivity back to the levels since before the Great Recession will likely be a key factor in determining whether President Donald Trump will achieve his goal of boosting overall growth from the weak 2.1 percent average seen since the recession. During the campaign, Trump pledged to double growth to 4 percent or better. But since taking office, Trump's Treasury Secretary Steven Mnuchin has said he believed that growth of 3 percent or better is achievable if Congress adopts the president's economic program.